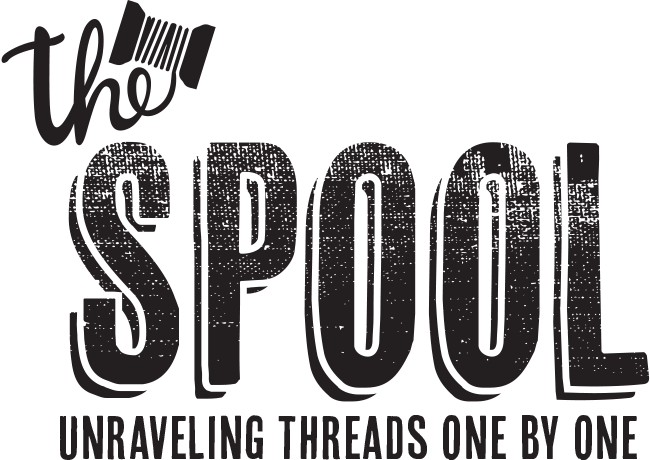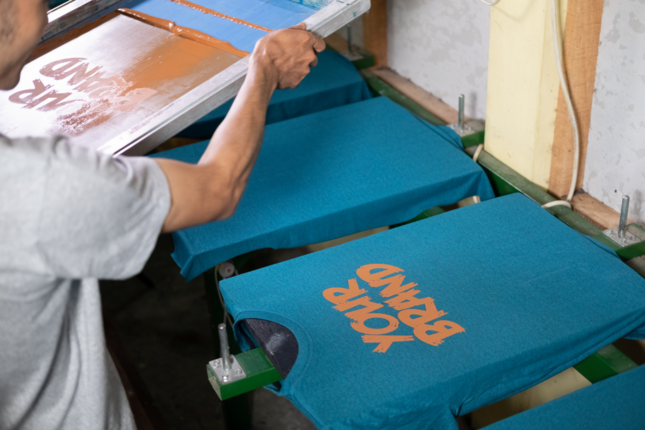 Best 3 Wholesale T-Shirts for Screenprinting
By ShirtSpace | Aug 23, 2019 | Updated Jan 07, 2022
Screenprinting is all about delivering a lasting product that meets, but hopefully exceeds your customer's quality standards. Whether you're operating a one-color manual press out of a bedroom or a multi-color, multi-manual and automatic press operation out of a shop, one fact holds true across the board- shirt selection can make or break your print experience, the quality of the print, your customer relationship, and your bank.
So how do you ensure that you pick an affordably priced t-shirt that will support a quality print and exceed your customer's expectations? Wholesale t-shirts, my screenprinting friends! By purchasing wholesale you can access high-quality garments at an affordable price. This allows you to deliver the quality your customer is looking for at their desired price-point. Say goodbye to sacrificing your margins and pulling your hair out on press! Purchasing wholesale is the way to go.
While Shirtspace.com has a huge selection of high-quality t-shirts to choose from, we've highlighted what we consider the three best wholesale t-shirts for screenprinting below. But before we dive into why we selected these three t-shirts, let's chat about how to choose the t-shirt that's best for both you and your customer.
The 3 Best Wholesale T-Shirts for Screen Printing in the Blank Apparel Market
How to Choose The Best T-Shirt for Screen Printing?
Price & Color
For most customers, there are a handful of priorities when it comes to choosing a garment-- color, feel, fit/style and price. The good news is, one big benefit to purchasing wholesale is that the price of the garment won't usually be your customer's primary concern. Instead, if your customer has a specific garment color in mind and you've already finalized the design, the color will ultimately dictate which t-shirt to choose. Bottom line, color, both of the t-shirt and the ink you print on it, are paramount to your customer's satisfaction.
Fit & Feel
Next up is the fit & feel of the t-shirt. If you haven't heard, unisex styles are all the rage. We can all agree, nobody likes the surprise of pulling a new shirt out of the dryer only to find it a size too small. With pre-shrunk fabrics and unisex sizing, dreaded shrinkage is on its way out. On the topic of feel, cotton is a tried-and-true natural fiber that offers sought-after softness, but is also prone to headache-causing fibrillation while on press. Polyester and tri-blends are a popular alternative, but your best bet is to let your customer determine the fit, style, and feel they're looking for and then you can guide them towards the fabric that will produce the best print and a quality feel.
Now let's dive into our top 3 wholesale t-shirts for screeprinting and see what the hype is all about!
Best Wholesale T-Shirt #1: Gildan G200 Adult Ultra Cotton® 6 oz. T-Shirt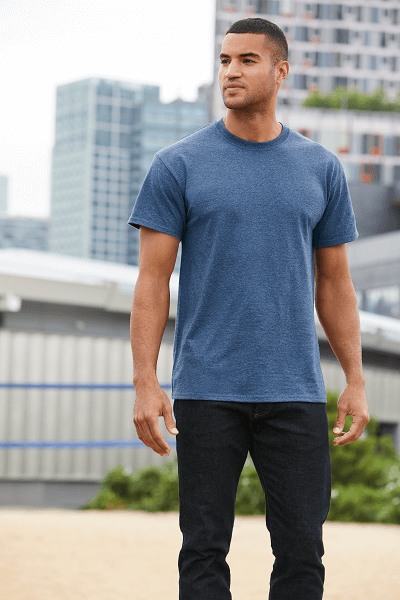 The Gildan G200 s a workhorse shirt that has 62 colors to choose from! At 6 oz, the G200 is a little heavier than most fashion-forward, retail-fit tees, making it a great option for a wide range of clientele. From school boosters to everyday-wear, the G200 will deliver a quality print for both fine or bulk type designs. The G200 is durable, is made using pre-shrunk cotton, and depending on the color and sizes needed, can significantly enhance your profit margins leaving both you and your customer happy. Pro-tip, pay close attention to the fiber content of this tee as some of the colors are cotton polyester blends VS 100% cotton. A higher polyester content can tighten your margins by forcing you to screenprint using a more expensive, dye-blocking ink or by requiring you to use an additive to reduce your curing temp. Ultimately, It's these little costs that add up, so be please be aware.
Best Wholesale T-Shirt #2: Bella + Canvas 3001C Unisex Short-Sleeve T-Shirt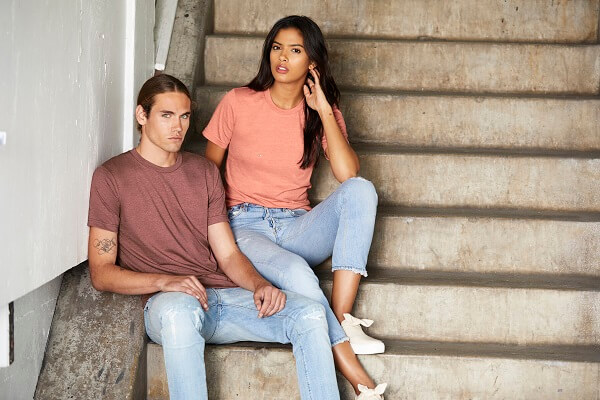 The Bella+Canvas 3001C is one of the trendiest shirts on the block. It's made using sideseam construction, unisex sizing with a fitted bicep, and is available in a whopping 95 colors, including the first-ever black heather and Bella+Canvas' signature PRISM collection. If that weren't enough to pique your interest, the 3001C is made with ringspun cotton that provides a super-soft feel and is lightweight at just 4.2 oz. Are you printing for a band, to sell on a website or for any other retail setting? If so, you can't go wrong with the 3001C. Pro-tip, if your customer is going for the heathered look on the garment, you'll need to be ready to combat dye migration from the get-go. If you're printing plastisol ink, going through a higher meshed screen and using an additive to reduce the hand will give the ink the lightest feel and will compliment the softness of the garment. Waterbased ink, you ask? That would feel like magic!
Best Wholesale T-Shirt #3: Anvil 980 Lightweight T-Shirt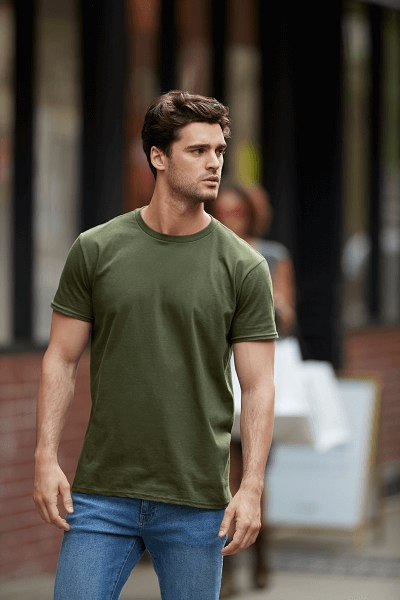 Much like the 3001C, the Anvil 980 is retail-inspired, except that the 980 has a semi-fitted, tubular silhouette whereas the 3001C is made using sideseam construction. Weighing in at 4.5 oz and offering a tear-away label, the Anvil 980 allows for full customization of the tee, right down to the care instructions or one-of-a-kind labeling. Although the Anvil 980's color selection doesn't include the volume of heather options that the Bella+Canvas 3001C has, the 980 takes out some of the guesswork in regards to fabric and fiber content. With none of the colors containing more than 10% polyester, you can rest easy knowing dye migration won't give you any grief. When printing on the 980, your ink choices are wide open, allowing you to use discharge ink for a trendy distressed look and achieve the softest print you've ever imagined.
As a screenprinter you have a lot of apparel options to offer to your customer. Finding the balance between a high-quality t-shirt that will lend itself to an amazing print but won't break the bank is always going to be in your best interest. Regardless of how big or small your operation is, purchasing wholesale is going to help your bottom line and allow you to focus on what's really important- delivering a product that will keep your customers coming back. With the Gildan G200, Bella+Canvas 3001C and the Anvil 980 you can count on three of the most popular, affordably-priced wholesale t-shirts on the market. Best of all, by purchasing wholesale you'll increase your profit margins without sacrificing quality and will end up with happy customers that continue to come back.
Ultimately, there are many wholesale t-shirts to choose from, and with a little bit of patience, you're sure to find the best fit for both you and your customer.
Comments
Vivian Shaw09/01/2020 02:52 pm
I want to know how to purchase bulks of the shirts and want to know how I can order at a whole sale price.
Leave a Comment