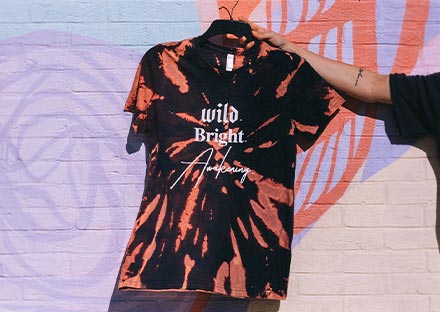 The Best Apparel For Bleaching Projects
Bleaching as a form of apparel decoration is taking the world by storm! This is because of two reasons. The first is that traditional
tie-dye
has made a huge comeback (did it ever really leave?) With the resurgence of tie-dye in popular culture, decorators have found ways to innovate traditional methods in amazing ways. For instance, if you tie a shirt up with string or rubber bands and then apply bleach, you can get a wonderful
tie-dye effect
without using dye. The results depend on how long you let the bleach sit. For example, a black garment starts out turning orange when the bleach is applied, then gray, then white, depending on factors such as time, sun exposure, the amount of bleach applied, the material, etc. If you bleach a red shirt, it will start turning a shade of pink and then lighter and lighter pink until it turns white.
This is why testing is very important when carrying out bleaching projects. Always order a few spares of wholesale clothing for bleaching projects of importance. This is a wise practice to test new methods and also just in case something goes wrong.
The second reason that bleaching has become so popular is the rise in
sublimation printing
. Because sublimated prints only show up on light-colored apparel, decorators have found a workaround that allows them to sublimate on dark-colored clothing. By bleaching the area that the design will be printed onto, the perfect blank canvas is created, often called a window on the chest of the shirt. The catch with this method is that you need to find a shirt that has enough polyester in it to sublimate well, typically around 60% or the design will look faded. The shirt also needs to include enough cotton to bleach since synthetics like polyester typically do not bleach well. Look for
CVC fabrics
and "heathers," or a blend of
65% polyester and 35% cotton
, for the best results when bleaching and sublimation printing.
Best Shirts for Bleaching
Sure, there are ways to
fade a t-shirt
, but bleaching t-shirts has become more and more popular in recent years, and we get many requests asking what the best shirts for bleaching are. You can't just pick up any
shirt
for bleaching. You will want to find the best shirts to bleach! You will need to make sure that there is enough cotton in the material makeup for the fibers to bleach properly, but also not too much, or the chemicals may wear away the fabric. This means
100% cotton tees
and
sweatshirts
are typically not the ideal choice when it comes to bleaching! If you do try your hand at it, be very mindful of the time the bleach sits on the fabric, and consider using hydrogen peroxide to slow the chemical process down. Synthetic fibers such as
polyester
do not bleach well, so having this in the material makeup holds up the integrity of the garment against harsh chemicals used, such as bleach and hydrogen peroxide.
To find the best shirts for bleaching, you have to find garments that have enough cotton, or another natural fiber in the material makeup, in order to get the lightening effect that you are aiming for. T-shirts with the label
CVC
or "heather" are some of the best shirts to bleach — a perfect blending of cotton and polyester.
Always make sure to read the product specs to ensure the color you choose is, in fact, the right blend of polyester and cotton since some of these shirts have varying material makeups, depending on the color selected. For example, the
Gildan G640 Softstyle
tee is only suitable for bleaching with heather colors since they are a blend of cotton and polyester. The non-heather colors are made from 100% ringspun cotton, which bleach may wear down too much, and cannot be sublimated on if you are planning on printing.
Best Long-Sleeve T-Shirts for Bleaching
Long-sleeve t-shirts are just as great for bleaching projects as short-sleeves. These are some of the best shirts to bleach because you have more fabric to work with. As a result, you can create a bleached effect that is perfect for hosting your print or a hypnotic reverse tie-dye design. We recommend a
cotton/polyester blend
when selecting the best long-sleeve t-shirt for bleaching projects. These will give you the best results when trying to bleach the shirt. It's all about finding the right balance between cotton and polyester. Clothing made from
100% cotton
might easily develop holes, and
100% polyester
will not bleach properly. You need a cotton and polyester blend! Long-sleeve shirts made from
CVC fabric
, or "heathers", are some of the best shirts for bleaching when playing the delicate game of balancing the cotton and polyester to meet your needs.
Best Sweatshirts for Bleaching
Many types of sweatshirts look great bleached. Whether you are considering a reverse tie-dye pattern or simply bleaching, we have just the sweatshirt for you. In cuts like
pullover hoodies
,
crewneck sweatshirts
, and
zip-ups
, there are many options available to appease any taste. When shopping for blank clothing for bleaching, including sweatshirts, make sure that there is the right blend of polyester and cotton. Too much cotton can result in holes in the fabric. Too much polyester and your garment won't bleach easily since synthetic fibers do not typically bleach well, if at all. A sweatshirt made from a blend of
50% cotton and 50% polyester
makes a great choice. If you want to
sublimate
on your freshly bleached sweatshirt, consider one with a higher count of polyester, upwards of 60% or more, in order to see the printed design. Sweatshirts made from
CVC fabric
are another safe choice when it comes to bleaching and sublimation, due to their material makeup, with just the right blend of cotton and polyester.
Best Tank Tops for Bleaching
If you live somewhere with little sun exposure, you may have to work your bleaching projects around the weather. Since bleaching usually requires sunlight for best results, tank tops are a natural choice of garment to customize due to the seasonality of the craft and tanks. During the sunnier seasons,
tank tops
are a perfect choice of apparel to decorate! Apply a little bleach for a subtle effect, or apply a heavier amount to lighten the fabric even more. The great part is that tank tops come in many different styles.
From standard tanks to
racerbacks
and
sleeveless tees
, there is a huge variety of tank tops that are ideal for your next bleaching project. Just make sure to aim for the right blend of cotton and polyester when searching for a tank top for bleaching. Aim for a cotton/poly blend. Some have had luck with
half cotton and half polyester
, but we tend to favor garments that have a little more polyester since bleach can break down cotton if there is too much in the mix. If there is too much cotton present, then the bleach might create holes in the material. If there is too much polyester, the fabric won't bleach well. Aim for a good balance, and you will have awesome results! For a great tank top material for bleaching, search for a
CVC tank
or one that comes in a "heathered" color option.
Best Accessories for Bleaching
You don't have to just bleach t-shirts, sweatshirts and clothing. Our wholesale apparel for bleaching includes accessories too! There are plenty of accessories that you can bleach as well. Just make sure that the item has enough cotton, since bleach does not work very well, if at all, on synthetic materials. Check out our selection of accessories that come in a
cotton/poly blend
and are ready to be bleached!
Why not try your hand at bleaching an
apron
or beach
towel
as a fun gift or unique item for your own apparel brand? Usually, with bleaching, we want to avoid 100% cotton since the bleach can burn holes when left on too long. But with aprons, they are durable enough that you can use
100% cotton
if you use hydrogen peroxide to stop the chemical processing or dilute the bleach. If you want to bleach and then sublimate, make sure you have at least 60% polyester in the mix in your
cotton/poly
blend for the best results. Less than 60% will result in a faded, vintage look. Let your creative juices run wild and browse our accessories that are great for your next bleaching project!
Best Apparel For Bleaching & Sublimation
Bleaching and
sublimation
are a match made in heaven in the apparel decorating world. The challenge is finding the
perfect shirt for bleaching and sublimation
. Have a dark shirt that you would love to print a design on via sublimation but are discouraged that the print will not show up? Bleach a space in the same shape as your design, and then print away!
When searching for the perfect blank apparel for bleaching and sublimation, having the right balance of cotton and polyester is key. You need to ensure that you have enough polyester for the sublimated print to show up clearly, but you also need enough cotton for the fabric to bleach properly. You might have some luck with a 50/50 blend of cotton and polyester, but the print will likely look very faded and have a "vintage" appearance. This is why we recommend clothing that had a little more polyester than cotton in the mix. T-shirts and sweatshirts that are made from
CVC fabric
are ideal since they typically have a little more polyester than cotton, but not too much! Many t-shirts and sweatshirts have "heather" color options that might not be listed as CVC. These are typically also a great choice for the combo of
sublimation printing
and bleaching. But make sure you check the product descriptions to ensure that the heather colors are the appropriate blend of cotton and polyester. It's a hard sweet spot to find, but once you do, the results are fantastic!
Also, it's worth noting that although
65% polyester and 35% viscose
shirts are great for sublimation, you do not want to use chlorine bleach on viscose because it breaks down the fibers. Ensure that you are using oxygen bleach if you decide to choose a 65% poly and 35% viscose style or go for a style that features
cotton instead of viscose
. The Bella+Canvas 3001CVC is a popular choice for bleaching and sublimation, but also keep in mind that your prints might not be as bright since the polyester count is a little lower. If you like a worn-in, vintage look, then this is a perfect choice!
Best Apparel For Reverse Tie-Dye
We all know that
tie-dye
is cooler than ever, but want to take it to the next level!?
Reverse tie-dye
is all the rage and really stands apart. Usually carried out with a
black
(or very dark) garment, the first step is to tie the piece of clothing and then
apply bleach
as you would with dye when you are tie-dyeing. Be careful not to oversaturate because a little goes a long way with bleach. Once you untie and reveal the bleached item, many people apply hydrogen peroxide, or at least wash the shirt, to stop the bleaching process. Since bleach easily eats away at cotton, and cotton is usually the preferred material for tie-dye, we definitely recommend using hydrogen peroxide to combat the bleach or using a cotton/poly blend that is more cotton-heavy. Avoid synthetic materials like nylon, spandex, and polyester-heavy garments.
Once the bleaching is stopped, you can
tie-dye the shirt
once more with vibrant colors. What you will end up with is the bleached portions showing the tie-dye design and the dark parts of the fabric concealing the dye. The results are little slices of colors, making for a very unique look. Reverse tie-dyeing is definitely a process, but worth the work when you end up with a remarkable custom t-shirt or sweatshirt.
For more precise steps on how to reverse tie-dye, review this
infographic.
Best Kids Apparel For Bleaching
ShirtSpace offers a variety of kids' apparel that is perfect for bleaching. Bleaching is a popular technique used to create unique designs and patterns on clothes. It involves using bleach to remove the color from the fabric, resulting in a lighter shade of the original color or a white pattern on a darker-colored fabric.
One of the best options for kids' apparel that can be bleached is the
Bella+Canvas Youth Jersey Tee
. This shirt is made of a blend of cotton and polyester, which allows for a variety of bleaching techniques. The material is also lightweight and breathable, making it perfect for warmer weather. For another stylish option, the Next Level Youth CVC Crew Tee is a great choice. Also made from a blend of cotton and polyester, making it easier than ever to bleach and creating a unique pattern on the fabric. It also has a modern fit and comes in a variety of colors, making it a popular choice for kids who want to stand out.
There is a great selection of kids' apparel that is perfect for bleaching. From t-shirts to sweatshirts, there are plenty of options to choose from that are comfortable, stylish, and easy to customize. With the right bleaching technique, kids can create their own unique designs and express their creativity. Are you wanting to bleach and then
sublimate
? Make sure to have more polyester in the garment than cotton. Want to reverse tie-dye a kids' style? Make sure the garment has at least 50% cotton, but the more cotton, the brighter the colors.
Common FAQ About Sublimation
You can use household bleach, however, do not use old bleach, as its power may have degraded over time. Also, if you are bleaching viscose, do not use chlorine bleach, instead, opt for oxygen bleach.
If possible, bleach your shirts on a sunny day outside. This will help speed up the process and is essential for:
ventilation purposes
helping the sun chemically process the bleach more efficiently.
You can use a spray bottle or brush to apply the bleach, depending on which technique you prefer.
Make sure to place a piece of cardboard or a divider of sorts to block the bleach from soaking through to the backside of the shirt, if you only want to bleach the front side.
Make sure not to leave the bleach on too long, or the fabric will get very thin or develop holes. Keep a strict eye on the fabric so that you can act fast once the bleach has achieved the desired level of lightening. Either immediately wash in very hot water once you've reached the lightness level you desire or use hydrogen peroxide to slow the cleaning process.
Ratings & Reviews