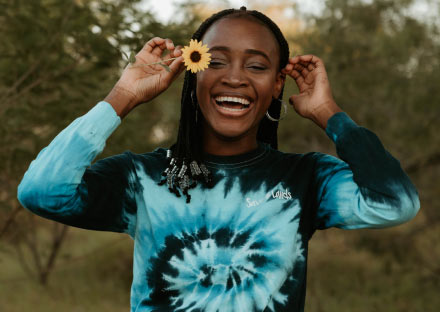 Wholesale Clothing for Tie-Dye
Tie-dye is arguably the most versatile method of apparel decoration for two reasons. First, tie-dye techniques range from super simple to more complex, so any skill level can
learn to
tie-dye! And second, you can tie-dye just about any piece of clothing. We're talking t-shirts,
tank tops
,
hoodies
, crewneck sweatshirts and more! You can tie-dye it as long as it has a high enough cotton content and can be folded or crinkled up. Many tie dyers aim for
100% cotton garments
, but some have great success with
cotton blends
as well. At ShirtSpace, you can find a variety of white and blank t-shirts or sweatshirts to add swirls of vibrant colors to for your Etsy apparel store! You can also shop tie-dye clothing if you want to skip the mess, with designs that are pre-dyed and ready for screen printing or HTV!
White Cotton T-Shirts for Tie-Dye
Dye will adhere to 100% cotton fibers better than synthetic fibers like polyester. Keep this in mind when choosing tie-dye blank apparel! Another important factor to consider is that the shirt must also be comfortable, since cotton is not always the softest material. For a variety of tees that are perfect for tie-dye, look no further. Check out Gildan shirts for tie-dye, particularly the
Gildan G200
, a t-shirt that lets you skip a step since it comes in a "prepared for dye" option—just for tie dyers!
Prepared for Dye (PFD) Blanks for Tie-Dye
Tie-dyers will absolutely love being able to practice their craft on these prepared for dye pieces of blank apparel. Dyers have always loved using
white shirts
are a blank to showcase their bright and vibrant designs, but PFD, or prepared for dye shirts, take the value for the cost to the next level! With these shirts, you are able to skip the important step in tie-dye of soaking your shirt in soda ash hours before you tie and apply dye. Dyes will lock into the fibers even better than if you were to use a garment that is not treated to be prepared for dye. If you are in a hurry to tie-dye, or if you just want to take one step out of the process, then prepared for dye
t-shirts
or
sweatshirts
would be perfect for your next big project!
Blank Sweatshirts for Tie-Dye
At ShirtSpace we have a wide selection of cotton-heavy hoodies,
zip-up sweatshirts
, and pullover
crewnecks
to host your bold and colorful designs. Skip a step and invest in
Independent 80% cotton sweatshirts
that come in a "prepared for dye" option so that you do not have to presoak your garment in soda ash. Time is money when it comes to apparel decoration. Save yourself the work, and invest in a good quality
cotton sweatshirt
for tie-dying that will make your job easier.
Tank Tops and Sleeveless Shirts for Tie-Dye
Tie-dye tank tops are perfect for the beach, music festivals and family reunions. Whether you prefer a
sleeveless tee
, a classic tank top, or a feminine
racerback
cut—we have just the right cotton tank for the design you had envisioned. With
high-quality cotton garments
that hold up through the entire customization process, and a lifetime of customer wear, you won't be let down the moment you wash, unfold and reveal your new tank top tie-dye creation!
Other Blank Dyeable Clothing and Accessories
Kids love to tie-dye just as much as adults. Whether you are hosting a tie-dye birthday party t-shirts for your child, or you tie-dye children's clothing for resale, we have just the right 100% cotton youth t-shirts for the occasion. Many of these styles have adult companion products, so the whole family can match! The Gildan G200B is the youth version of the adult G200 and ladies G200L tees. Select the "prepared for dye" option of the G200B to skip a soda ash pre-treatment. Top brands like Fruit of the Loom, Port & Company and Hanes all produce youth versions of their top 100% cotton white t-shirts for tie-dye that the kids are sure to love as much as we do!
Face Masks
Apparel decorators will customize anything they can get their hands on, and face masks are no different! Tie dyers have the unique opportunity of decorating masks since they are relatively easy to fold up and dye. The VC19 by ValuMask even comes with a "prepared for dye" option, so that soaking your garment in soda ash is a thing of the past! Allmade offers an
organic cotton
face mask, and Delta's
DLAFMP5 cotton face mask
is antimicrobial! Whichever mask you choose, you can dye it to match your favorite t-shirt, or make them as gifts for friends—the possibilities are endless with face mask tie-dye!
Pre-Dyed Tie Dye T-Shirts, Sweatshirts & More
If you love the look of tie-dye, but you want to skip the full process, consider a pre-tie dyed shirt from ShirtSpace! For apparel decorators that want to screen print or apply heat transfer vinyl to a tie-dye shirt, purchasing tie-dye clothing can be a game changer when it comes to saving time and money during production. Some t-shirts such as the
Port & Company PC149 Window Tie Dye Tee
and
Dyenomite's 200BE Bullseye T-Shirt
feature a big open circle on the chest—the perfect place to put a logo, message or graphic! Consider wholesale tie-dyed clothing for complex patterns that may be difficult to achieve, such as Tie Dye brand's
CD1150 Pink Ribbon T-Shirt
for ladies and the
CD1150Y
for kids, both perfect for breast cancer awareness or a charity event.
Common FAQ for Tie Dye
Many tie dyers will tell you that they use 100% cotton garments since cotton absorbs the dye and synthetic fibers typically do not. With the increase in different material blends we find in t-shirts today, tie dyers are bending the rules more and more by trying their craft on a variety of materials. If you do decide to use a piece of clothing that is not purely cotton, just keep in mind that your colors may look more muted or pastel than you had intended. Or certain colors will not bind well at all and you will be left with more of the original garment color visible than desired. If you are aiming for the boldest colors possible, go for a 100% cotton white t-shirt. Combed and ringspun cotton shirts are usually favored for comfort and softness in general, but they can be harder to fold and a lighter weight than regular or softspun cotton tees. If comfort and softness is the main priority above color richness, then go for a 100% ringspun cotton tee or a cotton/poly blend. Keep in mind that when it comes to apparel decoration, general practices are meant to be pushed and rules broken, that's how we get innovation! Many great tie dye designs have been created with cotton blends, we just recommend you test products and materials before carrying out an important order or project.
Generally speaking, yes, you do need to soak your garments in a mixture of soda ash and water (see instructions on soda ash packaging for details about water to soda ash proportions and soak time duration). If you want to skip this step, consider purchasing a PFD t-shirt or PFD sweatshirt, PFD standing for "prepared for dye", allowing you to skip a usual soda ash pre-soak altogether. Also, remember that cotton often shrinks when washed and dried. You may want to pre-wash your shirt before tie dyeing, or choose a pre-shrunk cotton t-shirt option.
There are two factors you need to consider when washing a tie-dye shirt, first the fabric and second the dye. Cotton often shrinks when washed and dried with heat so be cognizant of this when selecting your size. You must wash the garment on a high heat setting to prevent future bleeding and to lock in the design, so you may want to size up if up if using 100% cotton. Or, you can select a pre-shrunk cotton shirt to help prevent drastic shrinking issues. To set your designs, you can soak them in a mixture of one gallon of water and 1-2 cups of vinegar for 30 minutes before rinsing them out in the sink and taking your ties off. When you are done rinsing your shirt in the sink and taking your ties off, you will want to wash it alone (or with other tie dyes of the same batch if you made multiples of the same dye colors) with a small position of mild laundry soap on high heat one to two times. Air dry or machine dry on a low tumble setting. Too much exposure to heat will fade your dye colors. For future washes, turn the shirt inside out and wash and dry on a cool setting to preserve the design.
Ratings & Reviews