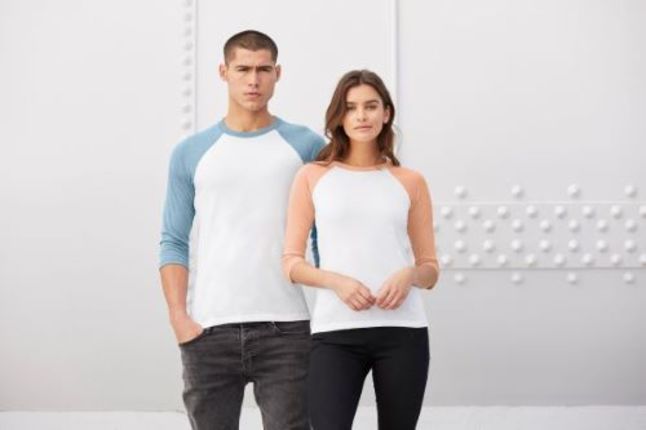 What is a Raglan T-Shirt?
By Shirtspace | Jan 31, 2019
Unless you are a seasoned screen printer, you probably don't know exactly what a raglan tee is and why it's a current cult favorite. After today, you will. Let's formally introduce you to the raglan t-shirt.
What Exactly is a Raglan T-shirt?
The name raglan comes from the style of the shirt rather than the fabric it is made out of. These tees are characterized by having sleeves that extend all the way to the collar and neckline, rather than ending at the shoulder. The sleeves of the raglan tee are generally a different color than the rest of the shirt.
Originally, a raglan t-shirt was a white shirt with a three quarter length sleeve that was either red, blue, or black. Luckily, designers and t-shirt manufacturers are getting more creative and are giving the public a lot more options. Screen printers and non-decorators alike can now get raglans in short sleeve, ¾, and long sleeved styles with multiple color options for both adults and kids. Raglan t-shirts are even available for our four-legged friends!
Fit and Fabric
While the sleeves are an iconic feature of the raglan, the fit and style are largely responsible for its popularity. Its relaxed and comfy fit are perfect for everyday casual wear and sportswear too. You often see it worn in one of America's favorite sports, which is why the raglan is affectionately nicknamed the "baseball t-shirt".
Raglan shirts come in a variety of different fabric blends. Most are a mixture of polyester and another fabric. Commonly, the polyester is mixed with cotton, but you can also find these tees in 100% polyester, 100% cotton, and fleece blends.
Price Points of the Raglan Tee
One of the greatest things about raglan t-shirts is that they are available at wholesale prices and fit into almost anyone's budget. With a variety of brands to choose from, you're sure to find something that will work for you.
If you are looking for the most affordable option, check out Gildan. You can snag a raglan t-shirt for under $7. Our personal favorite is the Gildan G570. It is made with 100% cotton preshrunk jersey knit and comes in 14 classic color combinations. Even better, the convenient tear-away tag makes it perfect for screen printing.
American Apparel raglans come in at the highest price point, but for good reason. They are made to last, hold a great print, and come in a variety of different fabrics and colors. The American Apparel BB453W is a great choice if you are looking for everyday wear but still want a bit of fashion too. Adult American Apparel raglans start at around $13.
If you're on the hunt for a raglan that is priced in between Gildan and American Apparel, check out Next Level raglans or Bella Canvas raglans.
Next Level raglan t-shirts are lightweight and available in a variety of fabrics that make them the perfect tee for everyday wear, sports, and screen printing. The current crowd pleaser is the Next Level 6051, popular for its unisex fit, soft feel, and wide range of sizes. Most Next Level raglan t-shirts are under $13.
Next up, Bella+Canvas raglans are the perfect mix of sporty yet fashionable and feature side-seamed construction for a flattering fit. These super comfy baseball tees usually start at around $8. The Bella + Canvas 3200 is one of the most popular raglans on the market and is at a price that's hard to beat.
So Why Should You Choose a Raglan Tee?
The real question is why wouldn't you choose a raglan tee? Raglan shirts are made to fit comfortably and allow for movement. Their unique sleeves make for an eye-catching fashion statement that is customizable or can be worn as-is. And, as a timeless tee that has been around for decades, raglan tees hold great prints, are always a crowd pleaser, and will continue to stand the test of time.
Back to
Top