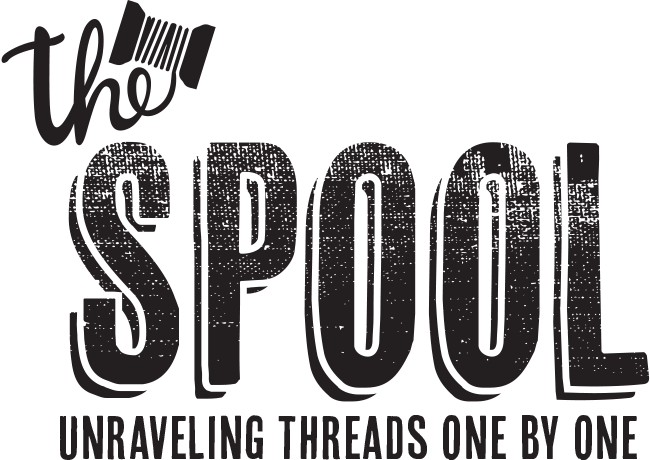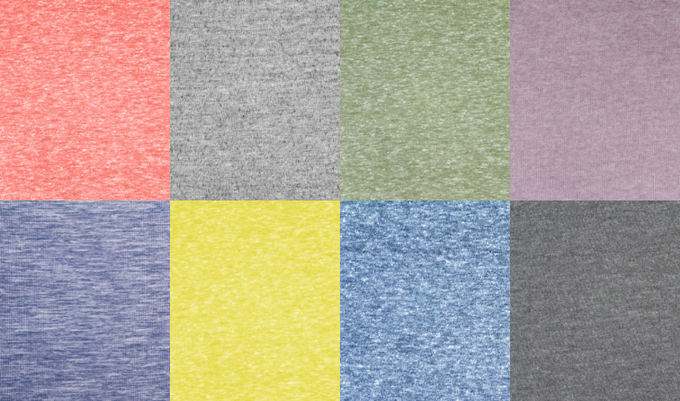 What is a CVC Fabric T-Shirt?
By ShirtSpace | Aug 23, 2019 | Updated Feb 07, 2022
Have you come across the term "CVC fabric" many times and are still wondering what in the world a CVC t-shirt is in comparison to a "normal t-shirt"? Well, you probably have come across one but didn't even know, considering how popular CVC has become in recent years for decorators and those that wear casual clothing on the regular. Similar in softness but lower in price, CVC tees are giving tri-blend shirts a run for their money. So what does CVC actually mean?
What is CVC Fabric?
No, it's not for credit company's "card verification code" or the medical term for CVC, "central venous catheter", the short of it—CVC is the acronym for Chief Value Cotton, also known as "heathers" or "heathered" fabric. The long of it- CVC fabric content is a blend of cotton and polyester, with cotton making up over 50% of the blend. What emerged as a way to reduce import and export costs has become a sought-after t-shirt alternative to tri-blend tees that are made using a blend of cotton, polyester, and modal. CVC fabric shirts are breathable and soft, while offering durability that rivals pricier tri-blend options. Available in a variety of trendy and classic colors, CVC t-shirts are a great as-is wardrobe staple and are also a go-to blank canvas for apparel decorators.
What Are Some of the Best CVC T-Shirts You Carry?
Top-Selling CVC T-Shirts at ShirtSpace Include:
Shirts Pictured: Bella+Canvas 3001C vs. Bella+Canvas 3001CVC

CVC tees are flattering, fashionable and fit right in with other retail-inspired shirts that are dominating the blank apparel industry. They give the illusion of texture, which is appealing to the eye, and stands apart from standard solid colored t-shirts. Sometimes CVC shirts have multiple colors of thread visible within the fabric, creating a beautiful effect within the material. With myriad options to choose from, we've come up with a list of our top three favorite CVC t-shirts. Check them out below!
#1 The Best Unisex CVC T-Shirt
Shirts Pictured: Bella+Canvas 3001CVC

The Bella+Canvas 3001CVC Unisex Jersey Short-Sleeve T-Shirt is arguably the most popular CVC shirt on the market and is available in over 20 CVC-specific colors and over 65 colors total! The sister-shirt of the 3001C (coming in all solid colors), the 3001CVC is retail-inspired, is lightweight at just 4.2 oz and is made using unisex sizing that will flatteringly fit a variety of body types. It is also preshrunk, so it won't disappointingly drastically change size or shape.
And to top it off, it has a tearaway label, which is awesome for both comfort and the ease of decorators looking to rebrand the garments for their own apparel line. Apparel decorators that use heat transfer vinyl, or HTV, love to customize these shirts, although they are great for other forms of decoration as well.
#2 The Best "Men's" CVC T-Shirt
Shirt Pictured: Next Level N6210 Men's CVC Crew in the colors silk and teal.
The Next Level N6210 Men's CVC Crew is another great CVC t-shirt option and is available in 30 colors. While it isn't made using unisex sizing like the Bella+Canvas 3001C, the N6210 is a popular choice for both men and women when it comes to wholesale CVC tees. It's fashionable, not too fitted, and comes in at a price that won't break the bank. With a tearaway label, apparel decorators and tag-haters can say bye-bye to an itchy tag for good.
#3 The Best Pigment-Dyed CVC T-Shirt
Shirts Pictured: Threadfast 130A Prigment-Dye Short-Sleeve T-Shirt in the colors royal and lagoon blue
Another CVC tee made using unisex sizing, the Threadfast 130A Unisex 130A Pigment-Dye Short-Sleeve T-Shirt features a retail-inspired fit similar to the 3001C and is available in 16 colors. Unlike the N6210 and the 3001C, the Threadfast 130A is pigment-dyed, so you can expect your colors to fade a bit after washing and look forward to a vintage, lived-in looking tee.
While you can't go wrong with tri-blend t-shirts, we encourage you to keep CVC tees on your radar. They're affordably priced, available in lots of popular colors, and our customers love them. Trust us— once you go CVC, you won't go back.

FAQ's About CVC Fabric
Q: What does a CVC t-shirt mean?
A: If you are wondering, "What is CVC fabric?", this acronym stands for Chief Value Cotton, meaning that the CVC fabric content is made from a blend of cotton and polyester, with cotton being the more prominent material. CVC fabric often appears to have textured "heather" or "heathered" patter to the material.

Q: What methods of apparel decoration is CVC fabric good for?
A: Although we always recommend doing a test run before committing to a large-scale production, CVC shirts are generally fantastic choices for screen printing, HTV, DTG printing and embroidery. We do not recommend standard CVC tees for sublimation, since the polyester count in the material is technically not high enough to produce vivid designs. You might be able to tie-dye if you like a more subdued look, but typically you want a higher cotton content since polyester does not absorb dye.

Q: Can sweatshirts also be made from CVC fabric?
A: Yes, they sure can! Although t-shirts made from CVC fabric are much more prevalent than sweatshirts, there are some hoodies and crew necks that boast CVC in the product name or description. This is because to be a garment made from CVC fabric, it must be made from a blend of cotton and polyester, with the percentage of cotton being higher than the polyester.

Q: Is CVC better than cotton?
A: CVC is typically made from the combination of two fibers, cotton and polyester. Cotton is praised for its low cost, breathability, comfort and ease to print on. When you add polyester into the mix, there are some great benefits. Polyester is moisture-wicking, meaning that sweat is pulled away from the flesh to prevent bacteria and sweat from mixing. Those wearing garments that are not moisture-wicking might quickly product body odor, experience drenched clothes (or "pitting out") and an uncomfortable feeling against the skin. The addition of polyester to the cotton material prevents this unattractive scenario from occurring. Polyester also doesn't shrink, and cotton does, so you will experience less shrinkage with a cotton/poly t-shirt. Cotton/poly shirts wrinkle less than 100% cotton, and they fade less in the wash over time.

Shirt Pictured: Next Level 6610 Ladies' CVC T-Shirt in "Espresso"
You Can't Go Wrong With Heather CVC Fabric
These shirts may look like they have a lot of texture, but you will be blow away at how soft they feel! CVC of heather t-shirts are more popular than ever, so don't wait to jump on the bandwagon and try one out (if you haven't already) for your next project today!
Comments
Sam06/15/2022 10:59 am
Is CVC cloth good for acid or mineral wash ?
ShirtSpace08/18/2022 06:51 pm
Hi, Sam! To answer your questions about whether CVC fabric is good for acid wash or mineral wash treatments, the short answer is typically no. According to the Batik Institute, polyester is not a great choice for these types of fabric treatment due to the fact that, "All synthetics are bleach-resistant and readily destroyed". Since bleach is the chemical commonly used for this method, the 48% polyester make up of most CVC fabrics will not react well. They suggest aiming for materials that are produced using mostly cotton for best results. Check out this helpful article for more info: https://batikinstitute.com/how-to-mineral-wash-a-shirt/ We do have customers that try out apparel customization methods that push the limits and have great results, so you can always order one shirt and see what happens! We love to hear when experimental apparel decoration goes right. So if you do decide to try acid or mineral wash on a CVC fabric, please let us know how it goes! If you have any other questions about t-shirts, CVC fabric, acid washing or mineral washing, please feel free to reach out to our Customer Service Team, and we would be happy to assist!
Leave a Comment
We take your privacy seriously and will not share or publish your email address.
This site is protected by reCAPTCHA and the Google Privacy Policy and Terms of Service apply.