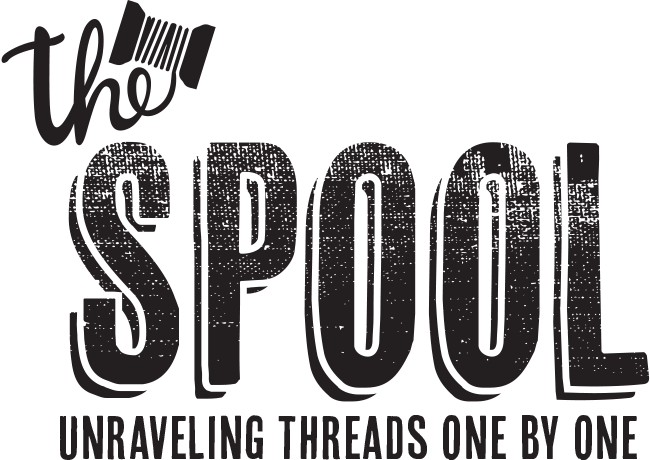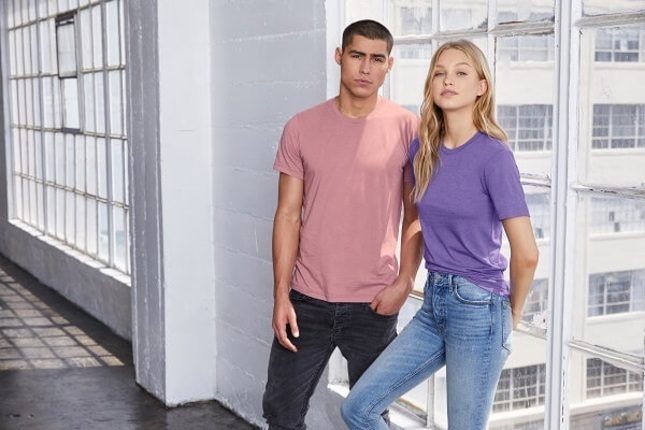 The Bella+Canvas 3001C vs 3001CVC T-Shirt
By ShirtSpace | Aug 23, 2019 | Updated Jan 28, 2022
The industry has been buzzing and people want to know - what's the difference between the Bella+Canvas 3001C and the 3001CVC? Both styles are extremely popular in the world of apparel decoration. We will clear up the confusion, so you can choose the best Bella+Canvas tee for your next project! The biggest factor that sets these two products apart is that the 3001C has solid colors, and the 3001CVC has heathered colors, which gives the 3001CVC a speckled look. Additionally, the two styles have a different material makeup.
Sister Styles: The Bella+Canvas 3001C and 3001CVC
You might be surprised to find out that 3001CVC shirts were once a part of the 3001C line, and were so popular, Bella+Canvas decided to split them off into their own style code. After that decision was made, the 3001CVC is just as purchased, if not even more sought-after, than the 3001C!
The Bella+Canvas 3001C
We're happy to report that the Bella+Canvas 3001C is the original, retail-inspired cotton shirt that has been flying off the shelves for years. Made using 4.2 oz of 100% airlume combed and ringspun cotton, the 3001C features flattering side-seamed construction, unisex sizing, a tear away label and is available in 65 solid colors.
The Bella+Canvas 3001CVC
What features of the Bella+Canvas 3001CVC make it stand apart from the 3001C? For starters, it boasts some wildly popular heather colors that makes the fabric have a textured appearance. If you are wondering what CVC stands for, it's Chief Value Cotton, and it's what gives the Bella+Canvas 3001CVC its heathered appearance.
Nearly identical to the 3001C but made using blends of CVC cotton and polyester, most of Bella+Canvas' 3001CVC tees are constructed using 4.2 oz of 52% airlume combed and ring-spun cotton and 48% polyester. The CVC aspect gives these shirts a softly woven, speckled look.
This shirt comes in 65 color options, including their innovative heather PRISM collection is pastel perfection! Bella+Canvas' heather PRISM colors are created by re-engineering the heather yarn spinning and fabric dyeing processes and are made using 99% airlume combed and ring-spun cotton and 1% polyester.
Finally, the last of the 3001CVC blends are the Athletic Heather and Black Heather that are made using 90% airlume combed and ring-spun cotton and 10% polyester.
The Bella+Canvas 3001C vs. 3001CVC
Still unsure of which one is the right choice for you? Tie-dyers will prefer the 3001C for a more uniform surface and because it's made from 100% cotton. Printing projects will turn out just as great on either shirt. If you are still unsure, why not try both? You have plenty of options with 130 creative and unique colors to choose from!
Comments
ShirtSpace08/18/2022 08:58 am
Hello, Shauna. We love Bella+Canvas too, but we could understand how the shirts feel too long for some. Luckily, we have many brands and styles to fit everyone's needs. The Anvil 980 is similar to the Bella+Canvas 3001 but is a bit shorter in length - ranging from half an inch to three quarters of an inch shorter: https://www.shirtspace.com/anvil/t-shirts/2503-anvil-980-lightweight-t-shirt?variant_id=126141) We also have the Gildan G640 Softstyle Tee that comes in solids (like the 3001C) and heathered colors (like the 3001CVC). This shirt is a little over a third of an inch shorter in length than the Bella+Canvas tees: https://www.shirtspace.com/gildan/t-shirts/1257-gildan-g640-adult-softstyle-4-5-oz-t-shirt?variant_id=234888 We hope this information helps you find your perfect t-shirt! Please don't hesitate to reach out if you have any more questions.
Leave a Comment