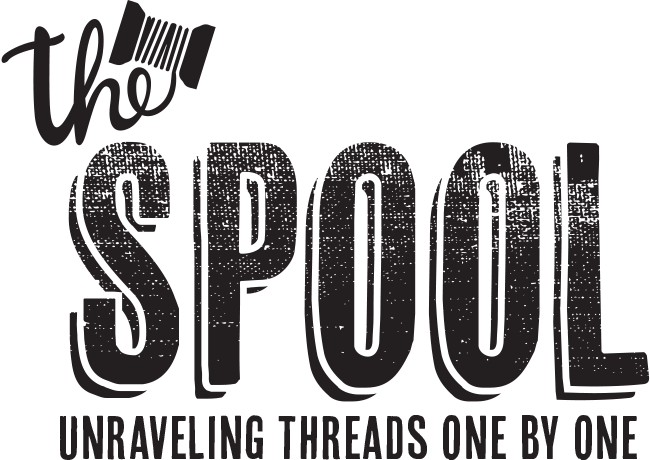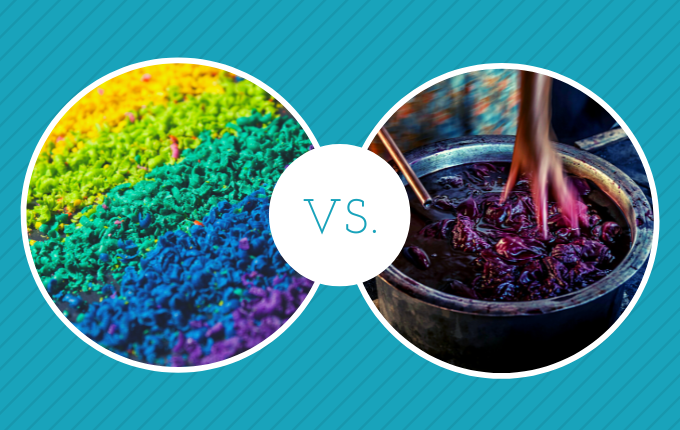 The Difference Between Pigment-Dyed and Garment-Dyed T-Shirts
By ShirtSpace | Oct 21, 2022 | Updated Oct 26, 2022
You may have heard of these terms loosely thrown around in the world of blank apparel, but what really is the difference between pigment-dyed and garment-dyed t-shirts? Both refer to the way the fabric is colored, but is there really a major difference between the two? We will explore both and answer all questions, so you can choose the best one for your project when considering whether to use pigment vs. dye.
There is one major difference between a pigment-dyed and a garment-dyed t-shirt. You might be surprised to find out that pigment "dyed" t-shirts aren't actually dyed. The pigments simply coat the outside of the material and are not absorbed into the fabric. Is there a difference between dye and pigment? Why, yes, there is! When discussing pigment vs. dye in terms of material makeup, as SPIE (The International Society for Optics and Photonics) explains, dyes are typically water-soluble, meaning that the raw material dissolves in water (more on that later). Dyes also tend to be more transparent than pigments appear. Pigments are more dense and opaque, meaning the color is typically richer and more saturated. Pigments also require a binding agent in order to affix to the surface you are coloring.
What is Pigment Dyeing?

Photo credit: lunanaranja

To answer the question, "what does pigment dyed mean?" in more depth, it's the process of coloring clothing with an almost insoluble material in water. The pigments are typically added to the material after it is cut and sewn. A chemical bonding agent is applied to the shirt fabric, and the soft and stylish, pigment-dyed apparel has become more and more popular in recent years. Pigments act more like fabric paint than traditional dye. Oftentimes coming in a loose powder-like consistency in its raw form and then is made into more of a paste, ink or paints, with additives. These pigments tend to wear off with repeated wears and washes. Pigments can be natural, but are typically made of synthetic materials, and come in every color under the sun.

The process that pigment-dyed t-shirts is a lengthy one. During the garment's journey, it goes through a cationic pre-treatment rinse and then an acid wash to make the garment ultra-soft. Next comes the pigment application and the chemical binder application, followed by another rinse. Then the garment is tumble dried to cure the dye to the fibers of the shirt (coasted with the binding agent). A final enzyme wash is applied to soften and remove unwanted dyed particles, and then the pigment-dyed shirt is dried one last time before being ready to be sold to consumers.
How to Care For A Pigment-Dyed Shirt
To avoid color bleeding, we recommend washing pigment-dyed t-shirts in cold water, and separate from other clothing. We do not recommend using stain removers on pigment-dyed clothing either, since this may strip the color off the garment in areas, or drastically fade it, depending on the chemical makeup of the product. When you dry your pigment-dyed t-shirts, air drying will prevent color loss and fading the most, but you can also tumble dry on low in a machine as well. We do recommend drying separately as well, or at least until it has been washed and dried enough that color bleeding has subsided.
What is Garment Dyeing?

T-Shirts Pictured: ComfortWash by Hanes GDH200 and GDH250
Now, you must be wondering, "what does garment-dyed mean?" Garment-dyed shirts and sweatshirts are dyed after they are cut and sewn together. This makes each shirt unique. Garment-dyeing after construction is done because if you were to dye the roll of fabric before you sew the materials together, you will likely get discoloration on spots where the fabric was rolled up. This can cause issues of mismatched coloring for different pieces of fabric within the garment-dyed t-shirt.
Although the color application is fairly uniform throughout the piece of garment-dyed clothing, there can be some faint inconsistencies in the coloring of the fabric. There may be a heavier concentration of dye along the seams and around the neckline. This will give it the worn, distressed look that often only comes with repeated wash and wear for typically manufactured and dyed clothing. When it comes to coloring the fully-sewn shirt, the raw dye is often mixed with water, and then the garment is dipped in the mixture to color the whole piece, which results in a garment-dyed t-shirt.
Shirts Pictured: Threadfast Apparel 130A in "Red" and "Denim"
How to Care For A Garment-Dyed Shirt
When washing and drying a garment-dyed t-shirt or other pieces of clothing, it's important to wash the clothing in cool or even cold water in order to prevent the color from unwontedly running onto other materials. You can basically treat garment-dyed clothing like you would a brand-new pair of jeans. After a while, the bleeding becomes minimal, if not stopping altogether. At this point, you can start washing with like colors, but still wash on cooler temperature. As for drying your garment-dyed clothing, it's always best to air dry, but if you machine dry, make sure to use a low tumble dry setting. Gildan, the parent company of garment-dyed clothing manufacturers, Comfort Colors, have a nifty care instructions guide for their products, that is useful for all garment-dyed clothing.
Garment Dyeing vs. Pigment Dyeing: Pros And Cons
Hoodie Pictured: Comfort Colors 1567
When looking at the difference between dye and pigment, and weighing the pros and cons of each, there are a few things to consider. Pigment-dyed shirts can be prone to crock, which is essentially the transfer of color after it has been applied to the shirt. Since the color essentially sits on top of the fabric, it is more likely to be some color that is displaced and doesn't properly bind during the chemical process. The color can sometimes easily transfer to other materials, so you have to be careful. Have you seen this before with brand-new blue jeans that haven't been laundered very many times? That's crocking! If you want a more worn-in shirt that has varying color applications, a pigment-dyed shirt might be the right choice for you!
With garment-dyed t-shirts and other pieces of clothing, they are more likely to bleed during washing because the dye is water-soluble. Also, if you find yourself wanting to alter or reconstruct the garment in any way, oftentimes, the dye will not seep into all areas and seams of the shirt that aren't visible on the outside. You may find yourself with uneven coloring due to this if you do choose to alter it, so keep this in mind.
Garment Dyed T-Shirts & Other Blank Apparel

T-Shirt Pictured: ComfortWash by Hanes GDH100
There are a variety of blank apparel brands that feature garment-dyed t-shirt styles. The brands Comfort Colors and ComfortWash by Hanes exclusively sell garment-dyed clothing. Other brands have just a handful of garment-dyed styles that they offer from their entire collection. Here are our top garment-dyed blanks, perfect for your next custom apparel project.

Garment-Dyed T-Shirts That We Love
1. ComfortWash by Hanes GDH150 Unisex T-Shirt with Pocket
2. Comfort Colors C1717 Heavyweight Ring Spun Tee
3. Port & Company PC099 Beach Wash™ Garment-Dyed Tee
4. Alternative 04850C1 Men's Heritage Garment-Dyed Distressed T-Shirt
5. M&O 6500M Unisex Vintage Garment-Dyed T-Shirt
6. Champion CD200 Garment Dyed Long Sleeve T-Shirt

Garment-Dyed Sweatshirts That We Love
1. Champion CD400 Garment Dyed Crewneck Sweatshirt
2. Port & Company PC098 Beach Wash ™ Garment-Dyed Sweatshirt
3. Champion GDS101 Reverse Weave ® Garment-Dyed Hooded Sweatshirt
4. Champion GDS149 Reverse Weave ® Garment-Dyed Crewneck Sweatshirt
5. Port & Company PC098H Beach Wash ™ Garment-Dyed Pullover Hooded Sweatshirt
6. Comfort Colors 1580 Ring Spun 1/4-Zip Sweatshirt
7. Comfort Colors 4900 Heavyweight Ring Spun Long Sleeve Hooded Tee
8. Comfort Colors 1567 Ring Spun Hooded Sweatshirt
9. Comfort Colors 1566 Ring Spun Crewneck Sweatshirt

Garment-Dyed Accessories That We Love
Many of these styles are also available in long-sleeve, pocket tee and youth variations. ShirtSpace also proudly provides t-shirts, sweatshirts, tank tops, hats, bags that are garment-dyed as well.

Pigment-Dyed T-Shirts & Other Blank Apparel
Photo credit: alphabroder
Pigment-dyed t-shirts are just as popular as garment-dyed t-shirts, but they are definitely not one and the same. Browse our entire selection pigment-dyed blank apparel. For a brand that sells exclusively pigment-dyed items, check out the brand Authentic Pigment, who offers high-quality blank hats and bags. Or, to narrow it down, some of our favorites that are worth mentioning include:

Pigment-Dyed Apparel That We Love
1. US Blanks US5524G Unisex Pigment-Dyed Destroyed T-Shirt
2. Tultex T1900 Heritage Unisex Tee
3. Threadfast Apparel 130A Unisex Pigment-Dye Short-Sleeve T-Shirt
4.Tultex T1910 Heritage Hoodie
5. Russell Outdoors S020R Realtree ® Long Sleeve Explorer 100% Cotton T-Shirt with Pocket
6. Russell Outdoors S021R Realtree ® Explorer 100% Cotton T-Shirt with Pocket
7. Russell Outdoors NP0021R Realtree ® Explorer 100% Cotton T-Shirt
8. Russell Outdoors NP0021R Realtree ® Explorer 100% Cotton T-Shirt
9. Tie-Dye H8150 Adult 8.5 oz., 80/20 crew neck fleece

Pigment-Dyed Hats That We Love
1. Port & Company CP84 Pigment-Dyed Cap
2. Port & Company CP83 Two-Tone Pigment-Dyed Cap
3. Authentic Pigment 1910 Pigment-Dyed Baseball Cap
4. Authentic Pigment 1912 Direct-Dyed Twill Cap
5. Authentic Pigment 1917 Pigment-Dyed Raw-Edge Patch Baseball Cap
6. Sportsman SP500 Pigment-Dyed Cap
7. Authentic Pigment 1915 Direct-Dyed Twill Visor
8. Sportsman SP530 Pigment-Dyed Cap
9. Adams OL102 Distressed Ollie Cap
10. Adams GC102 Adult Game Changer Cap
11. Adams SL101 Ladies' Sea Breeze Floppy Hat

Pigment-Dyed Bags That We Love
1. Authentic Pigment 1906 14 oz. Direct-Dyed Raw-Edge Tote
2. Authentic Pigment 1902 14 oz. Pigment-Dyed Canvas Field Bag
3. Authentic Pigment 1901 14 oz. Pigment-Dyed Canvas Cinch Sack
4. Authentic Pigment 1904 14 oz. Pigment-Dyed Large Canvas Tote
5. Authentic Pigment 1908 14 oz. Pigment-Dyed Raw-Edge Messenger Bag
6. Liberty Bags 8877 Seaside Cotton Pigment Dyed Drawstring Bag
7. Liberty Bags LB8507 Seaside Cotton 12 oz. Pigment-Dyed Large Tote
8. Liberty Bags 8879 Seaside Cotton Pigment-Dyed XL Canvas Boat Tote
9. Liberty Bags 8870 Seaside Cotton Canvas 12 oz. Pigment-Dyed Boat Tote
Understanding The Differences Between Pigment-Dyeing And Garment-Dyeing

Hat pictured: Authentic Pigment 1910 Pigment-Dyed Baseball Cap
So, who wins the battle of garment-dyed vs. pigment-dyed shirts? There is no clear answer. It really just depends on what you are looking for in your dyed garment. Both have their advantages, and either way, you will have a beautiful, custom-colored shirt that has a worn-in, vintage vibe that everyone is vying for. Another appealing feature of both pigment-dyed and garment-dyed shirts is that they can endure fading and wear better than traditional t-shirts, since they are already intended to look that way! What do you think is the superior coloring method when discussing pigment vs. dye? Let us know your thoughts in the comment below!
Leave a Comment
We take your privacy seriously and will not share or publish your email address.
This site is protected by reCAPTCHA and the Google Privacy Policy and Terms of Service apply.