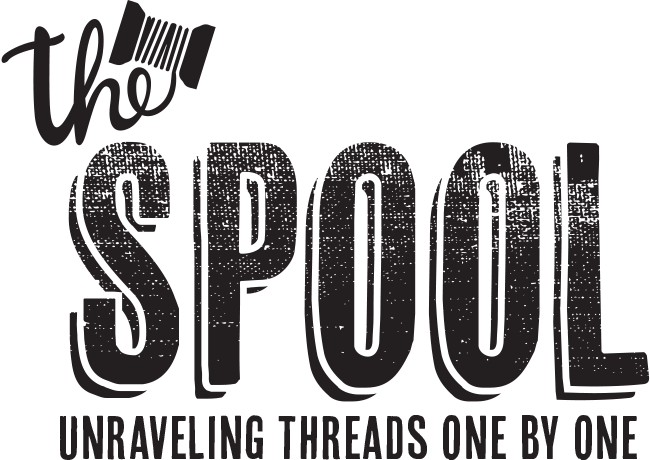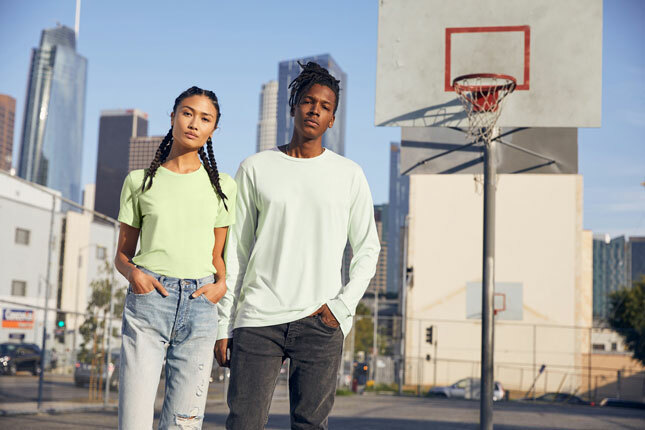 What Is a Tri-Blend T-Shirt?
By ShirtSpace | Aug 23, 2019 | Updated Feb 07, 2022
If you asked a group of 10 people what their idea of the "perfect" t-shirt was, you would likely get a mix of answers. Some would inevitably prefer a fashion-forward fitted tee, while others would opt for a looser, relaxed fit. But, regardless of the person or the t-shirt, almost all people polled would surely say that comfort was key, right? Which is where tri-blend apparel comes to play!
Hero image source: Swivel digital lounge
What is a Tri-blend Shirt?
Tri-blend apparel is made up of a mélange of materials. 50% polyester + 25% cotton + 25% rayon = 100% awesome tri-blend styles!
In our opinion, comfort is exactly what tri-blend clothes offer. What is tri-blend exactly? Having been on the market for roughly a decade, tri-blend tops are a mix of polyester, cotton, and rayon. In an effort to offer higher-quality, super-soft, well-fitting tees, manufacturers began offering tri-blend to meet the demand.
Image source: Swivel digital lounge
What is Ryon, AKA the Secret Ingredient?
What is rayon, precisely? This secret ingredient that is in tri-blend fabric is a semisynthetic material that is made up of natural and raw fibers that goes through an intensive manufacturing process where the material is exposed to unnatural elements. Because of the process in which rayon is created, that is how the material gets its "superpowers!'
Images source: Dmitri Kalvan & danishkhan
Fabrics with rayon added to them give them a drape and stretch that is flattering on all body types, which is why this secret ingredient makes tri-blend apparel so desirable. Its makeup is flattering, and makes it one of the softest tee options in the wholesale market. To add to the reasons why rayon is a special component to the trifecta of tri-blend materials, it was originally created as a substitute for silk! Now that is pretty cool!
How Does a Tri-Blend Style Feel?
Imagine if polyester, cotton and "silk" aka rayon had a baby……. That is what tri-blend fabric feels like. This terrific trio offers you the best of all three worlds. Cotton gives you durability, polyester offers stretch and breathability factors, and rayon gives you the softness and creates an ideal drape. No matter the silhouette, choosing tri-blend t-shirts and or tri-blend sweatshirts will not make you disappointed, but will leave you feeling like you have the softest feeling t-shirts! We dare you to shop our wholesale tri-blend options at bulk prices and find your new favorite type of apparel.
Image source: Swivel digital lounge
How do Tri-Blend T-Shirts Look When Decorated?
Adding tri-blends to your decoration methods can be another form of creative expression. Because of how this fabric is made, it reacts to ink and other materials differently than your go-to fabrics like 100% cotton, 100% polyester or 50/50 cotton/polyester blends.
The rule of thumb when working with tri-blends is to always assume that your end product will have a more "vintage" feel. This is because of it being made up of three different materials, and each of them have different reactions to inks and other supplies that you might be using. For example, if you are using water based and discharged inks, the discharge only effects the cotton portion of the material. Making this have more of the iconic vintage look and feel.
Image source: Swivel digital lounge
Most tri-blend tees have a textured look when it comes to color, so you can expect an almost heathered appearance. We personally love that look, but because there was a demand for solid colored tri-blend options, Bella+Canvas came to the rescue! They have over 24 styles and 30 plus different shades, which include both textured and solid colors to suit everyone's fancy. Bella +Canvas didn't just create a perfect tee, they also created a printing guide that has a ton of tips, tricks and more!
Why Choose a Tri-blend Shirt?
When it comes to choosing a tee that checks off all the boxes (fit, style, comfort, and price), tri- blend t-shirts are where it's at. Expect a fashionable look, both trendy and classic colors, ultimate comfort, and a bit pricier tag than your run-of-the-mill cotton tee. Keep in mind, the little extra you spend on tri-blend t-shirts is well worth it in terms of wear-ability and comfort. As the adage goes - you get what you pay for! Learn for yourself the meaning of tri-blend t-shirts and shop our wholesale selection at ShirtSpace at bulk pricing to join this trifecta phenomenon.
Image source: Swivel digital lounge
Comments
Kay08/10/2020 06:53 pm
Hmm....good info but the Bella Canvas and Anvil tri-blend tees I have are 50% polyester, 25% cotton and 25% rayon. Did these brands change the fabric composition from 50/25/25 COTTON/poly/rayon (as mentioned by this article as to what a triblend is) to 50/25/25 POLY/cotton/rayon? Can someone email me the correct info about the fabric composition of tri-blend tees and/ or correct this article?
ShirtSpace08/17/2022 11:14 pm
Hi, Kay. You're absolutely right, there was a mistake on our end. The industry standard percentages are typically 50/25/25 poly/cotton/rayon. Sometimes these percentages are tweaked a little at the manufacturer's discretion to yield different results, but typically this is a traditional triblend's specs.
Leave a Comment
We take your privacy seriously and will not share or publish your email address.
This site is protected by reCAPTCHA and the Google Privacy Policy and Terms of Service apply.