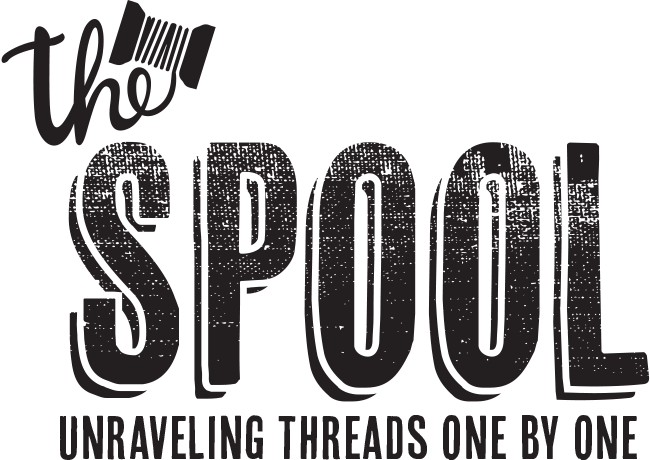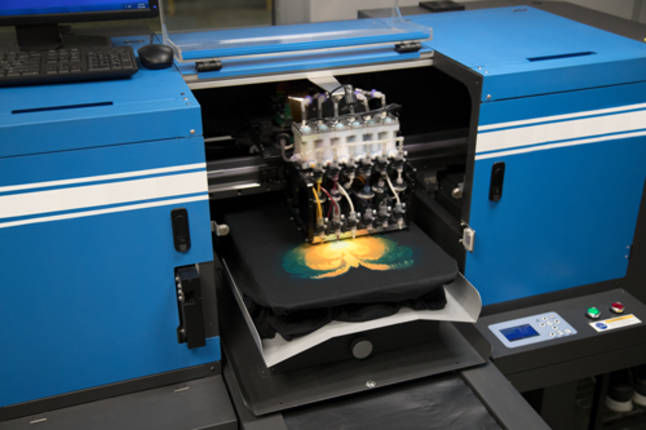 Gildan T-Shirts: A Top Choice By Printers For DTG Shirts
By ShirtSpace | Jul 01, 2022 | Updated Jul 01, 2022
DTG shirts are everywhere! And it's no wonder, since DTG printing is the fastest growing form of apparel decoration! If you are curious about getting in on the DTG shirt printing fun, we will explain what DTG t-shirt printing is, and suggest some amazing Gildan shirts that are perfect for your next DTG t-shirt creation!
What's DTG Printing, and How Does It Work?
Photo Credit: The Dream Junction
DTG printing is short for direct-to-garment printing. So how exactly does it work? An inkjet printer is loaded with ink and the design is printed onto the garment, in a similar fashion to printing an image on a sheet of paper. The benefit is a wider range of colors than HTV designs or screen prints can typically produce, as well as sometimes a smoother feel to the design.
Equipment to DTG print ranges greatly in level of quality and ability to produce. Large, industrial-level DTG printers will cost thousands of dollars. Smaller units that are geared at beginners typically range from suitable for hobbyist to small businesses, but may not have all the bells and whistles.
So what is the benefit of having a large-scale production besides being able to fulfill large orders of printed apparel? If we haven't already convinced you, here it comes—having the ability to print DTF (direct-to-film) transfers and sell them to other apparel decorators, so they can make their own DTG shirts without a printer on-hand. Having professional equipment opens many doors for additional streams of income. Plus, DTF transfers can be used by anyone that can heat-press, so there is a large (and growing) market for them to be sold individually to hobbyists and people who only want to create a small number of printed shirts.
Another benefit of DTG t-shirt printing is the time saved. Granted that there are no technical issues, DTG printing can be a lot faster than traditional methods of apparel printing. The drawback, if you aren't very tech-savvy, you better brush up on the mechanics of the equipment, because technological issues will eventually arise, as with any other computerized piece of machinery.



Photo Credit: Direct Color Systems
Benefits of Choosing Gildan T-Shirts for DTG Printing
Gildan shirts are an apparel decorator's match made in paradise due to their low price point and high quality. Not only that, Gildan was recently named one of the most sustainable brands by the Wall Street Journal. This means that you can trust Gildan with their "made with respect" motto and ESG (ethical, social, environmental—or "green") business framework. These are core values exemplify their genuine responsibility in the apparel industry, and are seen with Gildan's highly-efficient manufacturing practices that minimize water usage, energy usage and overall waste.
It can be difficult to navigate the thousands of options out there when it comes to choosing your blank apparel supplier when you decide to print direct to garment shirts. Many Gildan shirts can be used for DTG prints, but there are some that even Gildan themselves ranks as "better" than many of the tees out there, and a couple that even bear the title of the "best" for DTG shirts.
What Makes a Shirt a Great Candidate for DTG Printing?

Photo Credit: Coldesi
100% ringpsun cotton is the best choice when it comes to DTG shirt printing for a super tight bond and smooth design. Even cotton and polyester blends can work very well too, as well as triblends, with special care taken throughout the printing and curing process.
Something that you do want to look for when searching for a shirt to print on is a high-stitch density. More threads used means that there is a tighter weave and a smoother printing surface. More stitches per inch used means that we have a tighter knit fabric. This creates a smoother printing surface, and in turn, these shirts are consistently soft. If you're looking for a shirt that offers this and more, hold on to your seat!
Top 5 Best Gildan Shirts For DTG Printing
Photo Source: Alpha Broder
Gildan has so many t-shirt styles in their inventory, it's hard to determine what exactly is the best option for DTG shirt printing. This why it's so helpful that Gildan has ranked their shirts as "Good", "Better" and "Best", even for high-quality DTG prints. Although they all can be printed on, printing on a Gildan G500 will likely not result in the same results as a tee created with DTG printing in mind!
Gildan's "Better Shirts For DTG Printing"
These t-shirts are ranked by Gildan as being some of the better options for quality printing results. Yes, Gildan does have a couple tees that top these "better" options when it comes to DTG shirt printing, but these "better" options are great for those working with a budget, very basic printed artwork on messaging, and beginners. If you have an especially detailed piece of artwork that you want to showcase, we recommend splurging for a shirt in the "best shirts for DTG printing" category to really make your design pop!
Gildan Softstyle Line of T-Shirts For DTG Printing
Gildan's Softstyle line is loved and revered with apparel decorators. Could it be the incredibly low price point, the quality construction, or the regular re-stocks that allow you to get what you need? It's all of it, of course! With DTG t-shirt printing on the rise in the world of apparel decoration, custom apparel decorators need to be able to count on the shirts they order so that they can have happy customers and turn a profit. This article is about t-shirts, but check out Gildan Sofstyle sweatshirts, the SF000 and SF500, for awesome prints as well!
Gildan G640 Softstyle Adult T-Shirt
For those that are looking for an affordable DTG shirt option that delivers awesome results when it comes to printed projects, the Gildan G640 is a crowd favorite. Made from 100% rinspun cotton, and a light and breezy 4.5 oz, it's incredibly soft-to-the-touch! A few colors, like the heathers, have some polyester added into the fabrication. It's part of Gildan's famous Softstyle line that decorators like for the bargain it provides without sacrificing quality.
Coming in 61 colors, there is without a doubt something to match the color palette you have envisioned. It even comes in unisex sizing running in XS-5XL, so many people can enjoy the comfortable feel of a Gildan Softstyle t-shirt! It provides a better printing resolution than many t-shirts on the market and retains its softness, despite normal wear and tear through washing and regular use.
Shirts Of The Same Fabrication As The G640:
Gildan G670 Softstyle Adult CVC T-Shirt

Photo source: Gildan
The Gildan G670 is as soft as the 100% cotton Softstyle shirts, but with polyester added into the mix! The blend of 60% ringspun cotton lends its soft texture and feel, and 40% polyester makes it more moisture-wicking than a full cotton shirt. The speckled CVC fabric has a heather appearance that gives it a visually appealing textured appearance. The colors will be just as vibrant, and your printing surface just as smooth as DTG shirts made from cotton. Coming in 24 colors, and unisex sizes running XS-4XL, there is a lot of variety with the Gildan G670.
Shirt Of The Same Fabrication As The G670:
Gildan's Hammer Adult T-Shirt Line
Gildan's Hammer line of heavyweight t-shirts also provides great DTG printing results (as well as other types of printing too!) The Gildan H000 Hammer Adult T-Shirt weighs a durable 6 oz. This shirt can stand up to whatever you put it through with its substantial, yet still soft, fabric. You get it all with these shirt's bright colors, crisp resolution and an ultra-soft feel. Seventeen color options give you variety to choose from. Plus, it's offered in sizes S-4XL, so many people can enjoy what this superb shirt has to offer.

Shirt Of The Same Fabrication As The H000:
Gildan's "Best Shirts For DTG Printing"
If you weren't already convinced that Gildan makes some of the best shirts on the wholesale market for DTF printers, just wait until you read about Gildan's "best shirts for DTG printing". Sure, the shirts we previously mentioned yield elite results, but there are a couple that deliver perfect designs for an optimized printing experience.
Gildan G64EZ0 and Anvil by Gildan's 980


Photo Source: Gildan

Made from 100% ring spun cotton, the Gildan 64EZ0 and the Anvil by Gildan 980 are ranked as the best t-shirts for superb printing projects, according to Gildan. The two tees that are part of the Sofystyle line are tied for the title of "best t-shirts for DTG printing". With an overall DTG rating of "best", you can't go wrong with this incredibly soft printing surface. What makes them so stand apart soft? Biodegradable enzymes were used to remove loose cotton from the fabric's surface. This makes for a printing canvas that is buttery smooth and the perfect pairing for ink and transfers.
Ideal for high-definition prints and very detailed artwork, both shirts by Gildan require less pre-treatment and less ink, making the whole printing process more efficient than with a standard t-shirt. This is not only good for the environment, but also for decorators who are trying to limit their business expenses.
Photo Source: Alpha Broder

Colors will be more visible and vibrant when printing on the Gildan G64EZ0 or Anvil by Gildan's 980 unisex tees. If you're a fan of color, opt for the 980, coming in 44 options of brights, pastels and neutrals. The G64EZ0 comes in a basic color palette of black, white, gravel and navy. The classics host colorful and contrasting designs beautifully when the artwork really needs to stand apart. Plus, these are colors that everyone looks good in!



Photo Source: Gildan
The 980 Anvil by Gildan tee has the added benefit of being Oeko-Tex Standard 100 Certified. This is a globally standardized label, so you can trust the garment to be gentle on the skin and free of any possible harmful substances for human and environmental health. Plus, this tee is not only incredibly soft due to its pure materials and handling, but it also offers a fashionable fit with side seams too!
Perfect DTG Shirts With Gildan Apparel
Photo Source: Gildan

Gildan shirts have proven time and time again throughout the years that they are an apparel decorator's best friend! Now that DTG shirts are more popular than ever, we are not surprise that Gildan t-shirts are performing so well when used with this method of t-shirt printing. If you haven't tried DTG yet due to its cost or accessibility, we highly recommend you purchase DTF transfers from a supplier and see how easy it really is to get bright, cold, intricate prints with a DTG printer!

And of course, Gildan shirts are a top choice for DTG shirts, but there are many other great brands carrying apparel that is perfect for DTG too at ShirtSpace, such as the District DM130DTG Tee. If you're familiar with the technique of DTG and/or DTF, make sure to tell us your favorite shirts to use in the comments below!
Leave a Comment
We take your privacy seriously and will not share or publish your email address.
This site is protected by reCAPTCHA and the Google Privacy Policy and Terms of Service apply.