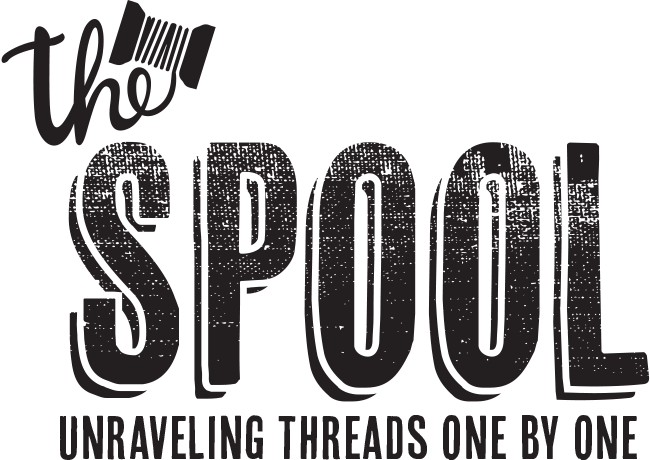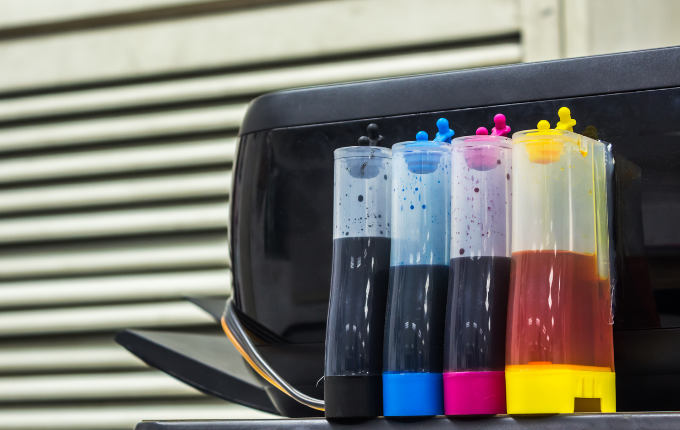 What is DTF Printing? Your New Favorite Way To Decorate T-Shirts!
By ShirtSpace | Mar 18, 2022 | Updated Nov 21, 2023
So you may be wondering, "What is DTF printing, what is a DTF transfer and why I have I been hearing about it everywhere?!" In this case, DTF not something you should be worried about in a text message on your teenager's phone, but rather a type of heat transfer that garment decorators have been loving! What makes it different from heat transfer vinyl (HTV) or direct-to-garment printing (DTG)? We will explain all and even show you a little project we did here at ShirtSpace using some
What is DTF Printing?
DTF stands for "direct-to-film" in printing. So how do these DTF transfers go from a piece of film and ink, to a customized t-shirt? First, the design is printed onto the film using a high-quality ink jet printer. These are not standard inks that you would use to print out a high school research paper, but rather professional textile inks that are specially created to bind to fabrics in as close to a permanent fashion as possible.

The design will be printed backwards on the film so that it appears flipped the correct way once transferred to the garment. Directions will likely be available from the supplier, usually coming with any DTF transfers you order. Make sure to read the instructions to determine the type of transfer you have acquired, which will either be a "cold peel" (meaning you peel the backing off of the freshly pressed design once it has cooled) or a "hot peel" (meaning you peel the backing off the freshly pressed design quickly after pressing). The heat locks the design to the fibers, transferring the ink from the film backing, to the fabric of the garment. Afterwards, you can cleanly remove the film and dispose of it. 
How Does HTV Differ From DTF Transfers?
HTV, which stands for heat transfer vinyl, is a very popular way of decorating apparel. Made popular in the crafting community, especially since vinyl cutters like Cricut and Silhouette have been made available to the general public, vinyl has been the chosen method for hobbyists and professional t-shirt decorators for years. This is due to its fairly easy learning curve. The drawback to HTV is that it can be meticulous for detailed images or text, since you must "weed" the design, or remove the excess vinyl to show the details of the design. You must also layer vinyl in order to achieve shapes in varying colors, but your design will not feel flush and is more likely to peel over time. DTF transfers are created by an ink jet printer. This makes DTF transfers the ideal choice for detailed, multicolored designs
DTF Transfers and Heat Pressing 

Photo Credit: LanaStock from Getty Images
There are many brands and models of heat presses on the market, and they range from hobbyist level to professional level in quality. Many who are new to the craft and don't plan on carrying out large direct to film printing productions start with a Cricut EasyPress, PowerPress, or comparable option. If you want something a little higher in quality, there are many mid-level presses like F2C from online retailers such as Amazon. For those that want to invest in an even higher-quality heat press, we recommend checking out heat presses from brands like Stahl's Hotronix or  VEVOR.

These factors are incredibly important to consider when using a heat press:
Temperature

Pressure

Time

Garment color/design color 
Sometimes it takes a bit of trial and error, and this is why it is SO IMPORTANT that you buy extras to test, or account for mistakes, when fulfilling orders and printing for groups. 
Where Can I Get DTF Transfers?

DTF printer, photo credit: vvamic in T-Shirt Forums thread
If you do not have the available resources to print these transfers yourself, you may be wondering where to buy them. There are a bunch of awesome suppliers on the website, Etsy, or if you are a part of any online t-shirt decorating groups or forums, you can usually find a great supplier there and support a fellow member of the apparel decorating community (and oftentimes a small business, which is always a win-win!)
If you are thinking of investing in a DTF transfer printer yourself, make sure you do your research, so you get a quality product that fits your needs. We recommend sites like Kingdom DTF,  DTF Superstore, and ColDesi. Polyprint even manufactures a printer that does both DTG and DTF printing, the DTF Express! This is especially attractive for those that want to print their own shirts easily using DTG but wants to sell DTF transfers to other apparel decorators as well as another stream of revenue. 

Photo Credit: Kingdom DTF
What Are the Best Shirts to Apply Direct to Film Transfers To?
One of the biggest advantages of DTF printing over other forms of apparel decoration is that you can apply these transfers to a wide variety of garment materials, including:
Top T-Shirt and Sweatshirt Styles for Super Smooth Prints
Best T-Shirts for Printing Projects
         Next Level 3600                  Gildan G640 Sofstyle            District DM130DTG
      Buttery smooth                They're all so soft, but try        Optimized for printing
                                                         the G64EZ0 EZ Print!

Best Sweatshirts for Printing Projects
Jerzees Super Sweats NuBlend  Bella + Canvas Sponge Fleece  Hanes EcoSmart Fleece 
High stitch-density for a                 Printer friendly & extra comfy          Patented, low-pill 
 smooth printing canvas                      high-stitch density!                          PrintPro XP fabric
Interview with Kim from Tulsa DTF Prints about DTF Printing
We asked one of our ShirtSpace customers, the lovely Tulsa DTF Prints (formerly Lily Asher Prints), a few questions about her business and direct-to-film printing in general. We are also a customer of theirs too, so we knew just the expert to ask about DTF transfers. With an in-house designer to offer custom designs or original company designs that are ready to shop, Owner and mom boss, Kim, says that they get a pretty even demand for both. Custom designs that are really popular for Tulsa DTF Prints include state and sports teams designs. There are ready-to-ship films for those working with a limited time frame, and available designs span all the way from holiday prints, to images for bridal tees, inspirational messages and DTF transfers for a variety of occupations.
Q: How did you first hear about and get into DTF Printing? 
A: I saw this new process on YouTube a few months ago, and decided to do more homework on it, and fell in love with the product.
Q: Would you mind telling us a little about yourself and your business? 
A: LilyAsher began 9 years ago while sitting on my living room floor. We started off making handmade button earrings and then ventured out into the t-shirt world. We were known back in the day for our ''FRIYAY" and "Wife, Mom, Boss'' t-shirts. I took a couple of years off to adjust to being a mama of two under 2-years-olds. Last October, I decided it was time to jump back into doing what I love most, and that was running a tee business. However, I decided that this time around, I wanted to help other t-shirt business owners grow their businesses. We are now approaching 2.5 years in the DTF business, and we just transitioned our name to ''Tulsa DTF Prints''. We moved to a huge warehouse with two industrial machines and will be adding a third at the beginning of the year. It's been an absolute dream to work with so many incredible people who are starting their own apparel businesses, or already established apparel businesses. We are truly blessed to be surrounded by so many creative people on a daily basis. 
Q: What kind of DTF equipment does your business use? 
A: We use Audley machines! (check out their awesome set-up on their TikTok account) 
Q: What are some obstacles you run into with your DTF business? 
A: That's a loaded question. It can be from fixing graphics that are not set to the right DPI to a printer head randomly going out, which sets production days back.
Q: What is your favorite type of garment to use DTF transfers on? 
A: We are big fans of Bella+Canvas 3001C and 3001CVC, as well as the Jerzees NuBlend sweatshirts, and Comfort Colors products. 
Q: Do you have any tips and tricks for those wanting to perfect using direct-to-film transfers? 
A: They are so easy to use. If you want to purchase them, we highly suggest staying away from ''hot peel'' transfers, as they make the print feel like plastic. We only use high-quality ''cold peel'' transfer sheets to ensure you get a buttery soft print.
Q: What do you anticipate for the future of apparel decoration and DTF printing? 
A: This is such a game changer in our industry. You can apply these to any cotton materials, polyester, and many other fabrics that are not water-resistant. But what I love most about them is that you can apply them to any color of top, too!
DTF and the Future 
So, did you get on the DTF bandwagon yet? It's one of the fastest growing apparel decoration methods, and a trend worth getting into early. Plus, it offers additional opportunity since you can print designs for others and yourself! If you're already into direct to film printing, share what equipment works for you in the comments below!
 
Other Blogs We Think You'll Love:
Comments
ShirtSpace10/02/2023 04:28 pm
Hi, Cindy! Great question! DTF printing applies a thin layer of ink to the fabric, and is transferred via the film. Sublimation printing can only be carried out on garments with a higher polyester count, typically 60% or more. The ink is transformed from solid to gas and permanently binds to the fibers of the shirt. Let's say you were blindfolded, and you had a DTF print on one tee, and a sublimation print on the other. When you ran your hand over the DTF print, you would feel it and be able to identify its location. When you were to run your hand over the sublimation print, you would not feel the print, and therefore not be able to locate it. To read more about sublimation printing, check out our blog that explains the process further: https://www.shirtspace.com/blog/sublimation-printing-what-is-it
Leave a Comment