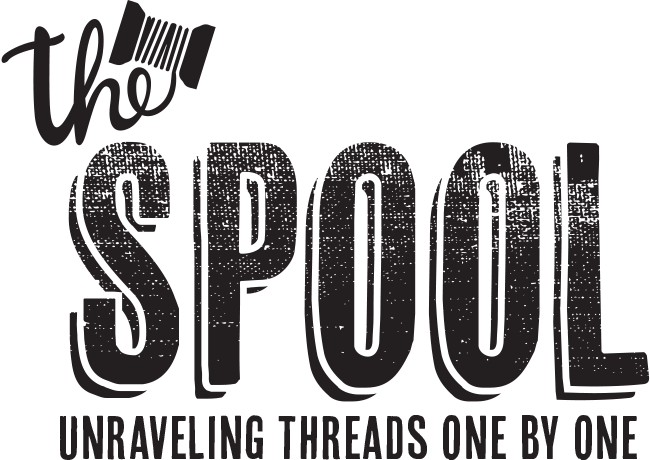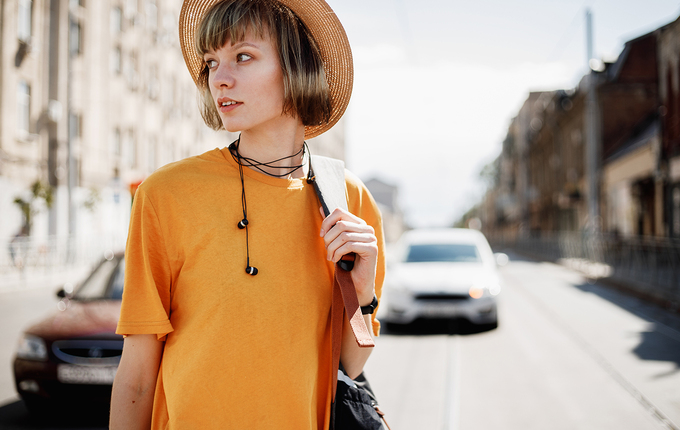 The Ultimate Guide to Different Types of T-Shirts
By ShirtSpace | Nov 02, 2022 | Updated Nov 09, 2022
There are so many types of t-shirts in the world! Take a look in anyone's closet, and you are more than likely to find a sparkly white Oxford shirt, a versatile blazer that can be worn for any occasion and a comfortable, durable shirt that can withstand even the hardest working conditions. You will find one ingredient missing from the mix, a t-shirt! Throughout history, different types of t-shirts have proven themselves to be accessible, flexible and versatile choices of clothing.
The Different Types of T-shirts Necklines

Photo credit: pixelshot
That's why there are so many different t-shirt styles today. You can get creative with your t-shirt style, whether it be with different necklines, graphic designs or distressing them to make them your own! You can also use them to layer under cardigans, over tank tops or under the ever-fashionable bomber jacket. Furthermore, you can pair them with just about any kind of bottoms, from leggings to distressed jeans, to slacks.
Both men's and women's different t-shirt styles have come a long way in today's industry. From unisex to a long-body urban t-shirt, today's unique t-shirts cuts are the different shirt cuts of choice for the startup generation. They are affordable and easily accessible—and a statement on a type of lifestyle. Take, for instance, the v-neck style. There is a short v-neck and a deep v-neck. Both are great alone or layered above that crisp oxford shirt hanging in your closet! Check out the edgy, raw neck t-shirt and elevate your brand to a whole new level of cool!
It's the lifestyle of innovation and entrepreneurship. In today's culture, different shirt cuts are comfortable canvasses to express your creative vision with witty quotes, statements or showcasing your art for the world to see! Not just for showcasing art, different kinds of t-shirts can also be used to promote your start-up business. What a great way to get the word out!
To learn everything you need to know about t-shirt culture, follow this guide about the different styles and types of t-shirts. You'll also learn how to choose the right t-shirt for you, and how to style your t-shirt choice for the most common uses and occasions.
Types of T-Shirt Sleeves

Shirts pictured: Hanes 5286 and 5280.
When it comes to choosing the right shirt for you, sleeves are just as important as the body and neck of the shirt. There are cap sleeves, sleeveless tees, 3/4 sleeves and long sleeves! The fit and look of these will be your preference, of course!
Long Sleeves: Men and women both wear long-sleeved shirts, but there are often different variations. Women's long-sleeved t-shirts are mainly non-cuffed, whereas the men's version are usually seen with some form of a cuff at the wrist

¾ Sleeves: More common during the spring and autumn months, these sleeves go just past the elbow, but not quite meeting the wrist. As the name suggests, it covers around three-quarters of the arm. Shirts known as raglans, or baseball tees, often have 3/4 sleeve lengths.

Cap Sleeves: This sleeve covers the shoulder, but doesn't quite continue down the arm or under the arm as a longer sleeve will

Sleeveless: Sleeveless tees, often referred to as 'muscle T's, get their name from the 'T' shape, which is created by the sleeves
Types of T-Shirt Length

Photo credit: Andrey Grigoriev
There are many types of t-shirt lengths to choose from when looking for a shirt. There are cropped t-shirts, urban long-body shirts, oversized and hemmed shirts. A crop top is typically a women's shirt cut short so that it reveals the stomach. These can be a longer crop top or a shorter version. Whatever you feel comfortable with. Long-body urban t-shirts feature side seams and a rounded drop-tail hem. Comfortable and stylish if you are looking for a longer in length t-shirt. It really is all about personal preference and what makes you comfortable!
Choosing The Right T-Shirt For You
Purchasing a t-shirt and want to make sure you are getting the perfect fit? We find ourselves asking whether we size up or down, or order the exact size we wear every day. Whether it's men's, women's, or even unisex t-shirts, the sheer number of styles and cuts makes it difficult to narrow down to just a few choices.
Don't stress; not every kind of fit or style is going to flatter your body type. There are so many to choose from! Below are the four different areas that t-shirt styles differ:
Fit

Fabric

Function
No matter which of these you're choosing, these factors will help you make the best decision about which type of shirt to buy to best flatter your body type.
Once you know what looks naturally suits your frame, you can stick to the staples and incorporate other shirt styles as occasional wear. With that in mind, here are five basic rules to keep in mind when finding the perfect t-shirt:
1) Go For Fit

Photo credit: dusanpetkovic
People think that "fit" means "fitted," but it's actually about how a t-shirt fits you. For a t-shirt to fit you well, it needs to conform to the contours of your natural body shape. Length is important when looking for fit. When you lift your arms up, the hem of the shirt should not ride up too much, exposing your belly. It also shouldn't restrict your movement or cause you any discomfort — which is why there are different kinds of fit and types of shirts.
Some types of shirts are designed to be baggier. Baggy t-shirts allow for movement and air circulation, which means they can be a lot more comfortable than their fitted cousins! Others, like a muscle tee, offer a form-fitting cut to show off (and enhance the look of) a toned body. Slim-fitting t-shirts give a clean, presentable look. Plus, slim fit t-shirts are designed to hug your body without being overly tight, creating a polished look.
Fit is a crucial part of overall personal style. So use these tips to vet the fit of your t-shirt, regardless of the t shirt style:
It should fit closely without tightness around your chest and waist.

The shoulder points on the t-shirt should match the endpoints of your shoulders — if they're too droopy, the t-shirt is too loose, and if the points hike up higher than the end, the t-shirt is too tight.

The sleeves should cover about one-third of your biceps, and they should lightly hug your biceps, not cut off circulation.

Raise your arms — does your t-shirt expose your midsection? Well, it shouldn't. It should be long enough to lift your arms without showing your midsection, but it shouldn't fall well below your waistline either.
2) Check The Occasion

Photo credit: mimagephotography

Knowing when and where to wear a t-shirt is half the skill you need to master when choosing what types of t-shirts to buy. You don't want to be the one person showing up wearing a t-shirt when it's a formal event. Trust us!
Anything with the word "function" in it (like a work function or school function) is usually not an appropriate occasion for the casual t-shirt. Although you may be able to pull it off with that fashionable blazer hanging in your closet! Anything that calls for business-casual or business-formal is definitely not a t-shirt occasion! If it has to do with weddings, interviews, business events or even a first date, steer clear of the t-shirt!
But there are, however, gray areas. Which is where all the different types of t-shirts come in. If you go for a long-sleeved tee, or a raglan sleeve t-shirt paired with an unstructured blazer, you can try these out at more intimate or low-key events like dinners out or an after-work event. T-shirts aren't just for that casual Friday everyone loves, there are ways to wear your t-shirt to work and still look completely appropriate! Take your outfit to the next level and read about 6 fabulous ways to wear your t-shirt to work.
The trick is to make sure your t-shirt style choices respect others' expectations and are appropriate enough for the occasion. With that in mind, don't wear a t-shirt to a funeral. Not even a black t-shirt!
3) Align Your Body Type With T-Shirt Style
Your body type is one of the factors that tells you what kind of style suits you best. You want to make sure that the t-shirt style you choose compliments your body type and enhances your best physical features. Feel comfortable in what you wear!
A V-neck, for example, can help emphasize broad shoulders or a particularly well-defined chest. Cap sleeves are great if you've got toned triceps. All that time at the gym has really paid off! On the other hand, raglan sleeves will help accentuate the natural musculature of your biceps and emphasize lean forearms.
4) Always Accessorize

Photo credit: Valeriia Sviridova
The first three of these factors above will help you choose the right t-shirt style for your body type and the occasion. Now comes the fun stuff — accessories.
T-shirts need minimal styling — that's part of why they're easy to wear. But certain occasions call for a more dressing-up of the classic t-shirt, and that's where your design choices come in. Watches, belts, and even bracelets or cuffs that match one or two of the colors in a graphic printed t-shirt (or a color-blocking raglan sleeve t-shirt) can help you pull the whole outfit together. Have a plain t-shirt that might look boring? Accessorize with a pretty necklace. Whether it be a chunky gold necklace or a classic teardrop necklace that hangs low, these are sure to make your plain t-shirt stand out. Take a look at 20 affordable accessories to pair with your classic t-shirt.
Also, consider that some t-shirt styles have a naturally urban, street-smart sensibility to them. But if you're looking to class it up a bit more, you can throw on a blazer, trade in the jeans for a set of dark slacks, and pair these with white high-top sneakers. Go a step further and break out the black dress shoes.Finish with a black leather strap watch with a white face and silver hardware. Voilà! You've got yourself a game-changing outfit based on something as simple as a t-shirt.
The point here is simple: if you want the perfect t-shirt, make sure to accessorize appropriately. It'll take your wardrobe to the next level.
5) Fabric First
The best types of t-shirts use high-quality materials for a fit that stands the test of time. There's just no compromising on that.
If a fabric isn't crafted using the right manufacturing and weaving techniques, you can expect a t-shirt that either looks shoddy right off the bat, or one that degrades into a lifeless form of rag after five washes. Then straight into the garage!
The label on a t-shirt can give you a good indication of what you're in for. Just because it says 100% cotton doesn't mean its high-quality cotton. Most t-shirts are crafted from a cotton-poly blend, but you should also look into thread count to get a sense of quality.
Common materials used for t-shirts are:
Cotton: Cotton is one of the most popular materials for a t-shirt. Soft and breathable, it strikes a perfect balance between comfort and cost

Combed Cotton: Think of this as an upgrade to a classic cotton t-shirt. Combed cotton is made from pretreated fibers that produce a softer fabric

Jersey: A common, flexible material that combines cotton and synthetic fabric.

Polyester: Polyester is notable for its resistance to shrinking, fading and stretching. Polyester has a long lifespan

Tri-Blends: You get the best of both worlds with a tri-blend. Tri-blends are a mix of cotton and polyester. Soft like cotton and wrinkle-resistant like polyester.

Synthetic, stretch materials: These include Lycra, Spandex, and Elastane. They're popular for workouts because they easily keep moisture and body sweat at bay. T-shirts, shorts, and leggings crafted from these materials retain their shape, even after multiple washes. However, at some point, these materials start to retain and lock in body odor — even if they're washed multiple times.
It's not just the fabric, the fit, or the occasion that determine your perfect t-shirt. T-shirt style is a very personal thing, and you can start to craft your own signature "look" once you understand the different types of shirts for men and women.
Different Types of Shirts for Men & Women
In today's society, different t-shirt styles have developed into sophisticated, stylish pieces worthy of wearing to high profile events. They may have found a cache on high-fashion platforms today, but the different styles and types had their humble beginnings in the Industrial Revolution — surviving through to present day. There are other wardrobe styles and designs that have come and gone, but different styles of t-shirts will always remain a fixture in your wardrobe.
Why?
Part of the reason is their versatility and comfort. The initial design covered the whole body and acted as a barrier against perspiration. From here, different t-shirt styles quickly moved from functional tops worn under uniforms to the signature clothing of "rebellion" in the 1950s and '60s in America. Greased back hair and rolled sleeves, anyone?

Marlon Brando pictured Photo credit: The New Yorker
After men began to dare to wear these so-called "undershirts" outside their uniforms, in broad daylight, these different t-shirt styles hit the streets. They became a natural canvas for promoting everything from political slogans to artistic designs. A fantastic way to promote your band, t-shirts are some of the most popular sellers at concerts!
Thanks to advancements in screen printing and newer methods of weaving and manufacturing, different types of t-shirt styles are now the proverbial uniform for pretty much everyone. Take a look around you, you will always see someone wearing a t-shirt. Their sheer accessibility is what makes t-shirt style so popular and available to people worldwide.
T-shirts are also minimalistic. A tactically-chosen t-shirt with a few choice accessories doesn't need much else to make an impact. Even though everyone can wear one, it's often the different t-shirt styles that wears you. In other words, not all t-shirts are created equal. Various styles, different types of t-shirt necklines, sleeve lengths, and even fabrics help you determine which different shirt cuts are best suited for what occasion.
Many t-shirt necklines and styles began as menswear, but eventually branched out into easy, comfortable clothing for women. The t-shirt styles are similar, but some necklines are reserved just for women. Others are unisex.
Men's T-Shirt Styles
Let's take a look at the men's shirts first, then look at some women's fashions next.
The Crewneck

Shirt pictured: Gildan G500
The crew neck goes all the way back to the early 1900s, when the United States Navy began issuing them to sailors. Called a crew neck for the fact that the working "crew" of a ship would wear these tops (intended as undergarments), these different shirt cuts features a crewneck which is a round neckline with no collar.
Today, this style of t-shirt, a casual crew neck, is a closet staple, and is functional enough to be worn under cardigans, over long-sleeved t-shirts, under leather jackets, or even as pajama tops. From the many different t-shirt styles men's apparel offers, the crewneck is the most popular among the masses.
The V-Neck

Shirts pictured: Bella+Canvas 3005
A v-neck is a popular t-shirt style that designers have taken it from the quintessential t-shirt and transplanted it onto sweaters, performance clothing, and even vests. Born in the 1960s, v-necks were the answer to re-framing a t-shirt as an edgy and even rebellious choice. Fast-forward to today, and you'll find t-shirt lovers firmly in one of two camps: crew neck or v-neck.
Some say that a v-neck offers the distinct advantage of making your face seem longer and more angular because the shape draws the eye down. These types of t-shirt cuts are particularly flattering for those with more square or round feathers. In addition to the v-necks complimentary features, people prefer to dress in a v-neck because of the modern take on a traditional crew neck. There are many different types of t-shirt necklines you can choose from, why not try a v-neck?
A v-neck is a great way to highlight the fit of your body without exerting too much effort. If they're not well-designed, or crafted from inferior materials, the v-neck can easily slip into being a poor approximation: an unstructured scoop neck or a saggy, shapeless crew neck after just a few washes.
The Henley

Photo credit: phasinphoto from Getty Images
The henley shirt was named because they were a traditional uniform of rowers in the English town of Henley-on-Thames. Henleys are not your typical kinds of t-shirts.
Henley t-shirts are meant to be the perfect base layer or worn solo. Ribbed with a short-sleeve cuff, it typically has a traditional three button placket that is usually cut a bit deep so you can let your chest breathe on a hot day.
Polo T-Shirts

Shirts pictured: Devon & Jones DG100 and DG100W
Whereas crew necks, v-necks, and henleys are collarless, polo shirts add a collar to the henley's placket and button design. Sometimes, there's also a pocket and a logo. Traditionally, polo t-shirts are short-sleeved because polo players in the roaring '20s wore them. Polo's were also adopted by tennis players and golfers. Many golf courses and country clubs require polos to be worn still to this day.
Polo t-shirts are usually crafted from knitted cotton or a blend of synthetic and natural fibers like silk and polyester. Due to the demand for athleisure clothing in high-performance fabrics, many polo t-shirts today feature a polyester and polypropylene blend.
The Scoop Neck

Photo credit: Ikhsan Sugiarto from Pexels
Urban and chic, the scoop next t-shirt style is not something all men can (or dare to) pull off. But never fear, you can totally pull it off! When styled with a fedora or incorporating a few irreverent pieces of long chains and some stylish sunglasses, the scoop neck t-shirt can bring out your inner rebel.
There's certainly something unique about the design, which features a round, wide, and sometimes deep "scoop" or circular shape. Whereas the crew neck hugs the base of the neck, the scoop neck is a kind of semi-circle. With this kind of neckline, it's imperative that you go for a high-quality fabric blend. If a scoop neck pills, curls, or loses its shape in the wash, it will look sloppy and unkempt, rather than stylish and edgy.
Raglan Sleeves

Photo credit: ucpage from Getty Images
We've done about all we could with the different types of t-shirt necklines. Now, we move on to the different types t-shirt sleeves. Plus, raglan shirts are extremely popular in the sports scene as well among skaters and baseball players!
Raglan sleeves are a unique method of stitching a t-shirt, where one continuous piece of fabric extends from the collar of the t-shirt to the underarm. This creates a wider underarm area, which makes it easier to move around and layer. It also creates a more comfortable, sporty look because the sleeves are often a different color than the body of the t-shirt.
T-shirt designers can get creative with raglan sleeves, through a variation on the stitching known as epaulet or a saddle sleeve. These sleeves are joined with a stylistically curved seam near the underarm, running parallel to the shoulder.

Photo credit: The Fashion Professor
Because of its natural curve, the saddle sleeve is quite common on women's t-shirts with raglan sleeves.
The Pocket

Shirt pictured: ComfortWash by Hanes GDH250
Pocketed t-shirts feature a small (or large) pocket on the front, left-hand side of the chest. These additions are great for a bit of style and functionality.
Stylistic pockets are squares that are stitched on but remain closed at the top, rather than opening up into a pocket. They can even feature small, metallic hardware, such as a mock button. Style your pocket t-shirts with some chinos, jeans or board shorts!
Hooded T-Shirts

Shirt pictured: Bella+Canvas 3512
Men's hooded t-shirts take their stylistic cues from the hooded sweatshirt. As such, these style of t-shirts are favorites for sports or workouts. Hooded t-shirts include drawstrings at the neck. These types of shirts designed for workouts are usually sleeveless or feature half-sleeves. More casual hooded shirts can be long-sleeved and include embellishments like ribbing on the sleeves, striped designs, and prints.
A range of technical, high-performance fabrics that are moisture-wicking make up the blend on these sports hooded t-shirts. Casual hooded t-shirts, however, are typically crafted from a comfortable knit jersey blend. Hooded t-shirts are great for that inbetween weather, not quite winter and not quite summer!
Graphic Tees

Photo credits (left to right): Sora Shimazaki from Pexels, Алексиева Г., Frame Kings from Pexels
Graphic t-shirts are fantastic additions to your wardrobe! Create a unique design with the colors, patterns, and designs featured front, center and back! These styles of t-shirts will never go out of style.
Graphic tees can also feature funny quotes, and are an easy top to throw on for that casual Friday at work. However, you should only pull out graphic tees for certain occasions, not everyday wear! Wearing a band shirt? Make sure you know at least a couple of songs! Weekends with friends are the perfect time to break out that graphic shirt. A fancy dinner is not — even if you throw on a structured blazer to class it up.
Different Types of Shirts for Women
Women's types of shirts follow roughly the same t-shirt styles as men. Hooded t-shirts, graphic tees, printed t-shirts, and even raglan sleeves are popular t-shirt styles and types for women.
Designers tend to get more flirty and fun with women's t-shirt styles. Necklines are the primary way to sort through women's styles, and these different types of shirts enhance a woman's wardrobe for any season.
The Boat Neck

Photo credit: Tirachard Kumtanom from Pexels
On women, this t-shirt style, the boat neck, like the is the scoop neck but slimmer and wider. The neckline barely skims the collarbones in an almost horizontal line, like the hull of a boat. These styles of t-shirts accentuates your shoulders, lengthening them out, and making them seem more elegant, with better natural posture. Boat necks can also elongate your neck. Pair these with a dainty necklace!
Off-Shoulder

Photo credit: Adam Fejes from Pexels
The cheeky and playful one-shoulder t-shirt style is a design for women meant to be casual and sporty. Wear your off-the-should top, like the Bella+Canvas 8850, with high-waisted jeans. If you'd rather wear a skirt or jean shorts, choose an off-the-shoulder top that is a little more fitted
These style of t-shirts are especially popular during the summer and make great workout companions to throw over a performance tank top.
Cap Sleeves

Photo credit: pixelshot
T-shirts with cap sleeves are more often seen as a style for women than for men. Cap sleeves offer a flattering, vertical silhouette in the upper part of your body and add a bit more structure to your garment. A comfortable fit, they can also be flattering to your figure. While cap sleeves are cute, you will want to pick one with a longer fit, as a shorter one may make you look short waisted
The Halter

Shirt pictured: US Blanks US223
The halter shirt style features a neckline that curves inward and ties or wraps at the back of the nape of the neck. Halter tops are no longer a thing of the past. These style of t-shirts have made their way to the forefront of fashion and have become extremely popular! Halter tanks show off the shoulders and back. They also come in a bodysuit variation. A common variation of the halter neckline is the racerback tank top.
Plunging Neck

Shirt pictured: Bella+Canvas 6035
The plunging neckline, or deep v-neck, is an overextended v-neck or scoop neck that extends past the top of the ribs and dips to the midpoint of the chest. A popular option to wear with a plunging neckline is a camisole. While cute, go for cuter with a lace camisole!
Plunging neck t-shirts, or deep v-necks, can be worn as is, depending on the depth of the cut, or with a traditional v-neck underneath. These may not be acceptable for your typical office wear though, so opt them for a fashionable night out with the girls!
Scoop Neck, V-Neck, And Crewneck


Image credits from left to right: Andrey Grigoriev from Getty Images, Vadim Pastukh from Getty Images, Nicko Binarama
Different types of womens t-shirts come in scoop neck, v-neck and crew neck, just as mens. They are, however, designed to be a slimmer fit, specifically tailored to fit a woman's body. For womens t-shirts, the shoulder seam should never hang below the shoulder, and they should be tight, but not skin tight. Let's not restrict ourselves! Different types of womens t-shirts, including necklines, sleeves and fit, have come a long way from what they used to be.
T-shirts are now their own category of clothing and, as you can see, the sheer number of different types of shirts and styles such as, color, style, and fit makes them invaluable additions to your closet.
In Conclusion
If you love t-shirts, long sleeve, short sleeve, v-neck, crew neck, you get it, Shirtspace carries many different styles: men's, women's and even kids! The variety of types of shirts and t-shirt styles means you'll need a solution to keep your collection of t-shirts updated — at an always affordable price.
That's why we offer bulk pricing on top of our buyer discounts for a wide range of high-quality t-shirts. Now that you know the difference between a scoop neck and v-neck, you can use your knowledge you learned from our ultimate t-shirt guide to shop your favorite different t-shirt styles. ShirtSpace carries a large variety of different brands to choose from. Learn more about how ShirtSpace is revolutionizing the way you wear your favorite types of shirt cuts. From how to make your own off-the shoulder design to how to rock that polo, we have you covered! With a huge selection of different t-shirt styles, men's, women's and kids cuts are plentiful! That way you can outfit the whole family!
FREQUENTLY ASKED QUESTIONS ABOUT DIFFERENT TYPES OF T-SHIRTS
Q: What body type is best for a v neck t-shirt?
A: Everyone is beautifully different. Some necklines are more flattering on certain body types than others, while others work well for almost everyone. The best body type for a v-neck will most likely be an hourglass or pear figure, narrow to wide shoulders and a shorter neck (long is great too). V-necks tend to elongate your body!
Q: How did the "crew neck" get its name?
A: This type of neck originates from the world of athletics. In the 1900s, rowers wore crewnecks. The oarsmen were often referred to as 'the crew', thus giving the name of the shirt they were wearing, crew neck. In today's society, you will often see this style of t-shirt worn with jeans, under bomber or jean jackets or paired with your pajama pants for a comfy night in!
Q: What type of shirt is a henley?
A: A henley t-shirt is a kind of t-shirt characterized by a round neckline and a planket usually 3 to 5 inches long and typically having 2-5 buttons. Use this shirt as a base layer or a solo piece. Open the buttons up, and you have a casual, but edgy v-neck. Close them, and you have a more formal, understated crew neck.
Q: What is a boat neck?
A: These types of womens t-shirts, the boat neck, is the scoop neck but slimmer and wider. They look fabulous on women with longer necks and faces, as they draw the eye vertically. They help widen the look of narrow shoulders, lengthening them out, and making them seem more elegant, with better natural posture.
Comments
Nidhi Gurjar06/12/2022 09:49 am
People's perceptions of you are influenced by how you dress. Even if you don't care what others think of you, the appropriate attire will help you to have the right attitude.
Leave a Comment